Busted: Rep Eric Swalwell's LGBT Lie
The Democrat party needs an ironing board.
On Friday Rep Eric Swallwell posted a photo to Twitter of the door to this Congressional office in DC which displayed two flags: one of the United States & one to show his support for gay rights.
The caption under the Tweet read:
"I fly these flags 365 days a year."
People on Twitter were quick to point out one tiny problem: the LGBT flag displayed in the photo had creased fold marks, suggesting it had just recently been removed from the packaging. Additionally, the fold marks suggest Swalwell does not hang the flag 365 days a year because it was only recently placed on his door.
A photo from Swallwell's own government website shows the door to Swallwell's office from several months ago had no LGBT flag. 
In other words, Swallwell is virtue signalling. He might not have been caught lying if it not for the fold marks on that flag.
But Swalwell isn't the only person in the DNC with a folded fabric problem. Several weeks ago Senator Kamala Harris' husband posted a photo of the Presidential hopeful wearing an apron while cooking jerk chicken on Mothers Day.
The apron in Harris' photo had the same problem as Swallwell's flag: fold marks on the fabric suggest it has never previously been used.
A similar photo of Kirsten Gillibrand wearing an apron while cooking has the same problem: folder fabric implies this is the first time either women ever donned those aprons.
All three of these Democrats share three very specific things in common: they want to be President, they're desperate to connect with average people and they don't appear to own an iron.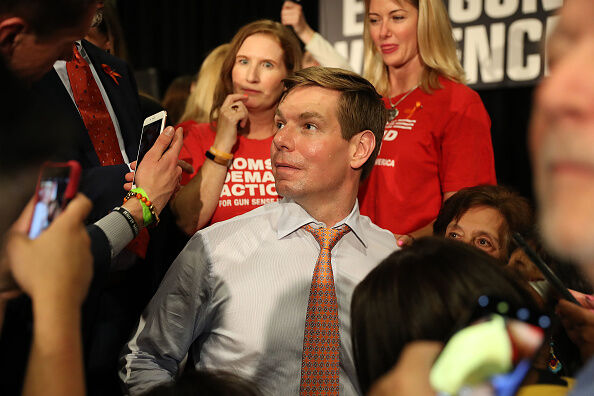 SUNRISE, FLORIDA - APRIL 09: Rep. Eric Swalwell (D-CA), who announced that he is running for president in 2020, greets people during a gun violence town hall at the BB&T Center on April 09, 2019 in Sunrise, Florida. Rep. Swalwell held the town hall not far from Marjory Stoneman Douglas high school which was the site of a mass shooting in 2018. (Photo by Joe Raedle/Getty Images)

The Pursuit of Happiness
Ken Webster Jr is a talk radio personality and producer from Houston, TX. He started his career in Chicago on the Mancow show and has since worked at dozens of radio stations all over the country. He's currently the host of Pursuit of Happiness...
Read more