Female Athletes Sue Because Transgenders Are Ruining Their Sport
Three teenage female Connecticut athletes who compete in high school track filed a federal discrimination complaint because they're sick and tired of the statewide policy on transgender athletes. They claim the policy has cost them the oppurtunity to finish first and qualify for college scholarships.
Their complaint cites the Title IX federal rules aimed at providing equal rights in sports for female athletes.
These young women have a point - they won't be able to achieve athletic scholarships because men who identify as women have co-opted their sport.
Glastonbury junior sprinter Selina Soule was one of three girls identified in the complaint, which was filed Monday with the U.S. Education Department's Office for Civil Rights. The complaint, which was submitted by the conservative Christian law firm Alliance Defending Freedom on behalf of the students, says the policy violates federal protections for female athletes.
While traveling with her mother, Soule chose to not participate in a phone interview Wednesday. She said she fears retaliation after appearing on "Tucker Carlson Tonight" on Fox News.=
"I have been vocal since earlier this winter and my mother has been for about a year now," Soule told Carlson.
Soule's mother, Bianca Stanescu, began gathering signatures at track meets last year, calling on the state legislature to require athletes to compete in sports based on their genders at birth, unless an athlete has had hormone therapy.
"There is a serious disadvantage," said Stanescu. "There are situations like athletics where your personal decision, personal choice and personal view of who you are doesn't change who you actually are biologically and physiologically."
Two transgender female athletes named in the complaint, Terry Miller and Andraya Yearwood, were unavailable to comment Wednesday, but they have both spoken openly about their transgender identities.
This flips the entire "men can be women too" argument that neo-feminists have been making right on its head. I hope these girls win their lawsuit.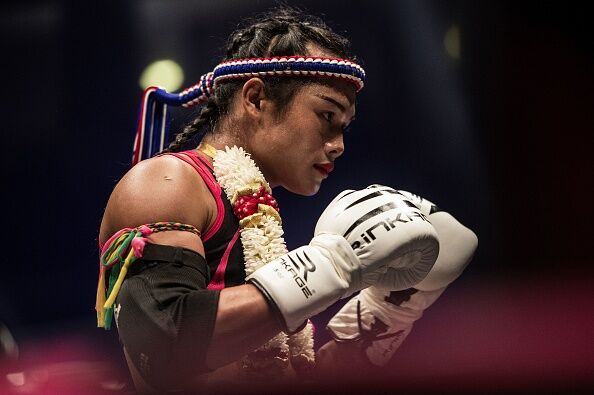 TOPSHOT - Thai transgender Muay Thai boxer Nong Rose gets ready before her fight against French champion Akram Hamidi (unseen), in Paris on January 6, 2018. Nong Rose Baan Charoensuk, 21-years-old, is making her debut as the first transgender fighter to enter the ring in France. / AFP PHOTO / CHRISTOPHE ARCHAMBAULT (Photo credit should read CHRISTOPHE ARCHAMBAULT/AFP/Getty Images)

The Pursuit of Happiness
Ken Webster Jr is a talk radio personality and producer from Houston, TX. He started his career in Chicago on the Mancow show and has since worked at dozens of radio stations all over the country. He's currently the host of Pursuit of Happiness...
Read more