Joe Biden Wants to Regulate "Number of Clips in a Gun"
Why do people who know nothing about guns insist on creating new laws to regulate your ability to defend yourself?
During this week's Democrat primary debate #2, Vice President Joe Biden focused on gun control efforts like a government buy back of "assault weapons", which is a word madeup by people who don't understand firearms.
But the craziest moment of his anti-Constitution diatribe came when Biden declared he supported regulation for the "number of clips in a gun".
Joe Biden said such an "assault weapons" buyback is possible and has already been a topic of conversation. He added that such a buyback ought to be "demanded" because "it's a good expenditure of money."
Biden also boasted about securing the 1994 "assault weapons" ban and said he also banned "the number of clips in a gun."
He also pushed "smart guns," saying, "No gun should be able to be sold unless your biometric measure could pull that trigger. It's within our right to do that, we can do that. Our enemy is the gun manufacturers, not the NRA."
On July 18, 2019, Breitbart News reported Biden's push for "James Bond-style" guns that do not fire without a DNA match.
Biden said: "If I get elected president of the United States of America with your help, if that happens, guns, we have the capacity now in a James Bond-style to make sure no one can pull a trigger unless their DNA and fingerprint is on it. We have that capacity to do it now."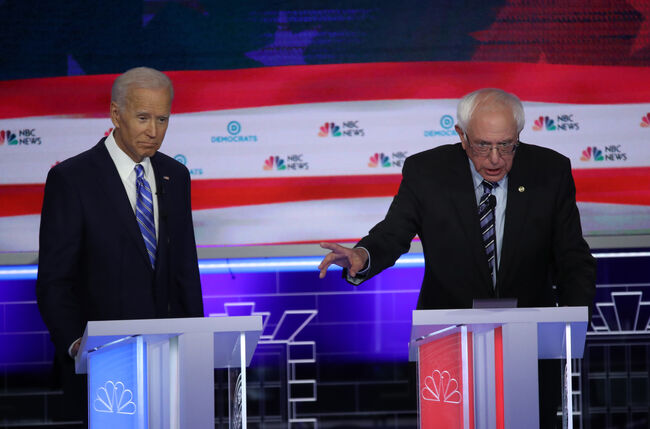 MIAMI, FLORIDA - JUNE 27: Democratic presidential candidate former Vice President Joe Biden looks on as Sen. Bernie Sanders (I-VT) speaks during the second night of the first Democratic presidential debate on June 27, 2019 in Miami, Florida. A field of 20 Democratic presidential candidates was split into two groups of 10 for the first debate of the 2020 election, taking place over two nights at Knight Concert Hall of the Adrienne Arsht Center for the Performing Arts of Miami-Dade County, hosted by NBC News, MSNBC, and Telemundo. (Photo by Drew Angerer/Getty Images)

The Pursuit of Happiness
Ken Webster Jr is a talk radio personality and producer from Houston, TX. He started his career in Chicago on the Mancow show and has since worked at dozens of radio stations all over the country. He's currently the host of Pursuit of Happiness...
Read more