Dim Squat: AOC, Omar & Tlaib Silent on "Palestine" Outlawing LGBT Activity
The so called "Democrat Squad", made up of far-left extremist Representatives Alexandria Ocasio-Cortez, Ilhan Omar, Rashida Tlaib, and Ringo Starr, claim to support the pseudo nation of Palestine while simultaneously supporting LGBT rights.
Ladies, you can support "Palestine" or you can support gay culture, but you can't support both.
Not surprisingly, the Leftist ladies of the Democrat party are all silent on the recent ban of LGBT activity in the "Palestine" West Bank.
Gosh, I wonder why AOC, Omar, & Rashida - who claim to care about the rights of "Palestine" and gay people - don't care about gay rights and "Palestine" rights at the same time?
Reps. Alexandria Ocasio-Cortez (D-N.Y.), Ilhan Omar (D-Minn.), and Rashida Tlaib (D-Mich.) have remained silent after the Palestinian Authority banned LGBT activity in the West Bank. These members of "The Squad" have supported legislation praising the Boycott-Divestment-Sanctions (BDS) movement against Israel and voted against legislation condemning it. PJ Media reached out to them for comment on the move, and they have remained silent.
Early Monday morning, The Jerusalem Post reported that the PA and Palestine Police had outlawed LGBT activity in the West Bank and threatened to arrest members of the LGBT group Al-Qaws for Sexual & Gender Diversity in Palestinian Society. Al-Qaws was planning a gathering for members in Nablus at the end of the month. The group only has offices in Israel — in East Jerusalem and in Haifa.
Luay Zreikat, a spokesman for Palestine Police, said LGBT activities are "harmful to the higher values and ideals of Palestinian society." He added that Al-Qaws's activities are completely "unrelated to religions and Palestinian traditions and customs, especially in the city of Nablus."
Zreikat went on to accuse "dubious parties" of working to "create discord and harm civic peace in Palestinian society."
Palestine Police will chase those behind Al-Qaws and bring them to trial once arrested, the PA police spokesman warned. He appealed to Palestinians to report any person connected to the group to police.
The LGBT group condemned this threat as "incitement."
"The Palestinian police announcement about our activities is very unfortunate," Al-Qaws said in a statement. "It's very strange that they are accusing us of being a suspicious entity working to take apart Palestinian society. Al-Qaws is a Palestinian organization that has been operating since 2001, and is carrying out educational and professional programs on sexual and gender diversity. We totally reject the attempt to create an atmosphere of prosecution and intimidation, as well threats of arrest."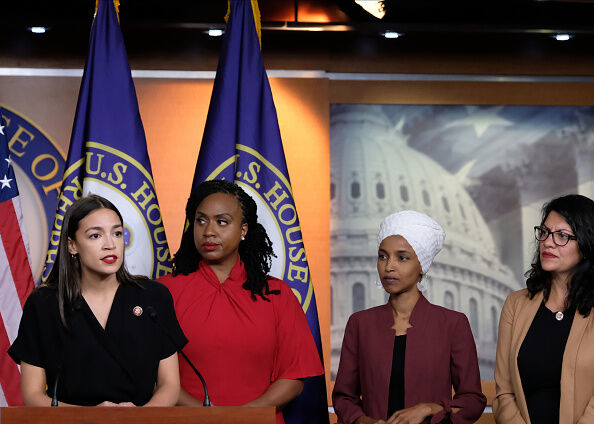 WASHINGTON, DC - JULY 15: U.S. Rep. Alexandria Ocasio-Cortez (D-NY) speaks as Reps. Ayanna Pressley (D-MA), Ilhan Omar (D-MN), and Rashida Tlaib (D-MI) listen during a press conference at the US Capitol on July 15, 2019 in Washington, DC. President Donald Trump stepped up his attacks on four progressive Democratic congresswomen, saying if they're not happy in the United States "they can leave." (Photo by Alex Wroblewski/Getty Images)

The Pursuit of Happiness
Ken Webster Jr is a talk radio personality and producer from Houston, TX. He started his career in Chicago on the Mancow show and has since worked at dozens of radio stations all over the country. He's currently the host of Pursuit of Happiness...
Read more