Kavanaugh's Accuser Is Former Clinton Lawyer, Obama Donor
Anytime you hear about controversial accusations in politics, take a look at who's doing the accusing.
Do they have something to gain from the controversy? If yes, be suspicious.
Max Stier, the man behind a new sexual misconduct allegation against Supreme Court Justice Brett Kavanaugh, was not only a former classmate of Kavanaugh's at Yale but also a foe during the Bill Clinton impeachment trial.
Stier, 53, served on the team defending Clinton, while Kavanaugh served on Independent Counsel Kenneth Starr's team that was investigating Clinton. As Yale Daily News put it:
In 1994, Kavanaugh joined the legal team, led by Kenneth Starr, that was looking into President Bill Clinton's real estate dealings as part of the Whitewater investigation. Later that decade, Kavanaugh co-wrote the Starr Report, which established broad grounds for Clinton's impeachment.
Those proceedings pitted Kavanaugh against a former Yale classmate, Max Stier '87, a fellow member of Stiles College who was one of several attorneys representing Clinton during the investigation.
The Federalist's Mollie Hemingway noted in a piece that during those proceedings Stier had "worked closely with David Kendall," who would later defend Hillary Clinton against allegations of illegally handling classified information.
Stier once worked for a Republican congressman decades ago — Rep. Jim Leach (R-IA) in 1982, but he would later donate to Democrats. He donated $250 to the Democratic National Committee in 2000 while he worked at Housing and Urban Development, and then donated about $1,000 to former President Barack Obama in 2007 and 2008, according to the Federal Election Commission website.
In 2004, Stier, then divorced, married then-assistant U.S. attorney Florence Yu Pan, according to a New York Times wedding announcement. The wedding took place in Washington, D.C.
That same year, a person by the name of "Florence Pan" in Washington, D.C., donated $500 to John Kerry's campaign for president.
Pan was later nominated by President Obama to be a federal judge for the Washington, D.C., U.S. District Court in April 2016, but the nomination expired before the Senate could vote on it. She is currently an associate judge on the D.C. Superior Court.
Stier currently is the CEO and president of the Parternship for Public Service, a non-partisan organization that advocates for federal employees. He has been frequently interviewed by national news outlets on the issue of government service.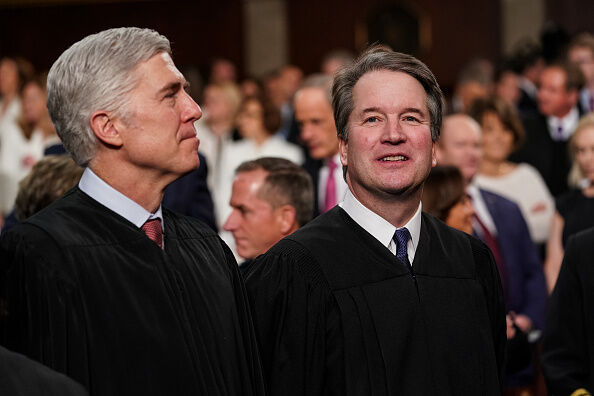 WASHINGTON, DC - FEBRUARY 5: Supreme Court Justices Neil Gorsuch and Brett Kavanaugh attend the State of the Union address in the chamber of the U.S. House of Representatives at the U.S. Capitol Building on February 5, 2019 in Washington, DC. President Trump's second State of the Union address was postponed one week due to the partial government shutdown. (Photo by Doug Mills-Pool/Getty Images)

The Pursuit of Happiness
Ken Webster Jr is a talk radio personality and producer from Houston, TX. He started his career in Chicago on the Mancow show and has since worked at dozens of radio stations all over the country. He's currently the host of Pursuit of Happiness...
Read more