Bombshell: In 2018 Democrats Asked Ukraine to Investigate Trump
Remember how upset Democrats were when they heard President Trump may have encouraged Ukraine to investigate Joe Biden?
In case you've been asleep for the past couple of days, they're literally calling for impeachment over this alleged revelation.
Well... Funny thing about that.
Democrats wrote to the Ukrainian government in May 2018 urging it to continue investigations into President Donald Trump's alleged collusion with Russia in the 2016 presidential campaign — collusion later found not to exist.
The demand, which came from U.S. Senators Robert Menendez (D-NJ), Dick Durbin (D-IL), and Patrick Leahy (D-VT), resurfaced Wednesday in an opinion piece written by conservative Marc Thiessen in the Washington Post.
Ironically, Speaker of the House Nancy Pelosi (D-CA) declared Tuesday that the mere possibility that President Trump had asked Ukraine to continue an investigation of former Vice President Joe Biden — even without a quid pro quo — was enough to trigger an impeachment inquiry. (Biden boasted in 2018 that he had forced Ukraine to remove its prosecutor by threatening to withhold $1 billion in U.S. aid; he did not tell his audience at the Council on Foreign Relations that the prosecutor was looking into a firm on whose board his son, Hunter Biden, was serving.)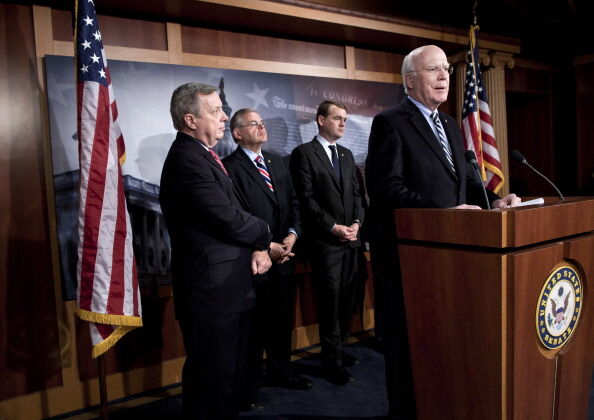 WASHINGTON - DECEMBER 18: (L-R) Senate Democratic Whip Richard Durbin (D-IL), Sen. Robert Menendez (D-NJ), and Sen. Tom Udall (D-NM) listen as Sen. Patrick Leahy (D-VT) speaks during a press conference on Capitol Hill December 18, 2010 in Washington, DC. The Senate was not able to get a 60 vote super majority to pass cloture on the DREAM bill, which would grant amnesty to some children of illegal immigrants. (Photo by Brendan Smialowski/Getty Images)

The Pursuit of Happiness
Ken Webster Jr is a talk radio personality and producer from Houston, TX. He started his career in Chicago on the Mancow show and has since worked at dozens of radio stations all over the country. He's currently the host of Pursuit of Happiness...
Read more