Lt. Gov. Dan Patrick Doubles Down on New Gun Control Efforts
This year Lt Governor Dan Patrick will be going as a Republican for Halloween.
Despite wide spread opposition to new gun control laws like expanded background checks, Patrick doubled down on his demands for new policies that would infringe your Constitutional rights.
On Monday, Lt. Governor Dan Patrick reiterated his calls for a "discussion" on background checks to cover private, so-called "stranger-to-stranger" transactions through a series of radio appearances.
His defense of proposing the policy comes after pushback from conservatives.
A week before Saturday, the Texas State Republican Executive Committee voted unanimously to approve a resolution condemning expanded background checks (EBCs) of the sort suggested by Patrick.
Last Friday, former state representative Matt Rinaldi wrote an article contending that Patrick — not Beto O'Rourke who has essentially called for outright confiscation — "poses the biggest threat to Texas gun owners."
Early Monday morning on the Mark Davis Show, Patrick defended his record on gun rights, boasting about his high ratings from the NRA and that he has consistently supported pro-Second Amendment legislation.
Davis did not go easy on Patrick, though, telling him, "Enhanced background checks of the type you embraced are going over like a lead balloon on this show…they believe it is worshiping at another phony altar, and that it's because we are scared of losing Texas and becoming purple that we feel like we've got to give an olive branch to the left."
After failing to interject, Patrick replied, "Look Mark, that is just flat wrong. It has nothing to do with an olive branch to the left. It has nothing to do with 'we have to do something' or otherwise."
He went on to say that because of the several mass murders in the past few years, no one had been to more memorial services than himself and Gov. Abbott. He argued that Texas needs to keep firearms out of the hands of criminals to prevent future tragedies.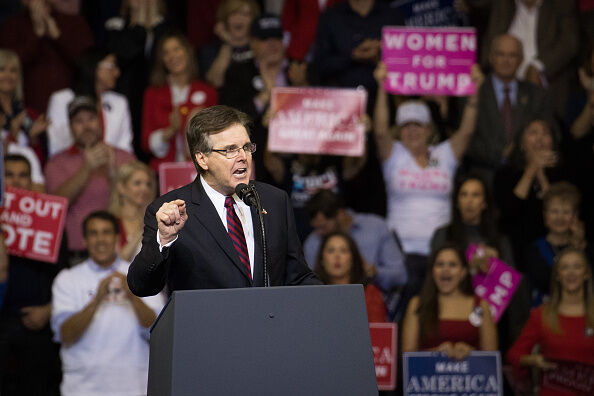 HOUSTON, TX - OCTOBER 22: Texas Lt. Governor Dan Patrick addresses the crowd before President Donald Trump took the stage for a rally in support of Sen. Ted Cruz (R-TX) on October 22, 2018 at the Toyota Center in Houston, Texas. Cruz, the incumbent, is seeking Senate re-election in a high-profile race against Democratic challenger Beto O'Rourke. (Photo by Loren Elliott/Getty Images)

The Pursuit of Happiness
Ken Webster Jr is a talk radio personality and producer from Houston, TX. He started his career in Chicago on the Mancow show and has since worked at dozens of radio stations all over the country. He's currently the host of Pursuit of Happiness...
Read more