Vegetarian Diet Worse For Planet Than Eating Meat: Study
If you think you can save the planet by consuming less meat, think again.
A new study has determined that a mixture of meat and vegetables is better for the environment than consuming a traditional vegetarian diet.
A DIET including one portion of meat a day carries a lower carbon footprint than a vegetarian diet that includes dairy.
That's according to research by Johns Hopkins University which modeled the environmental impact of all major diets across 140 countries.
It concluded that those switching to a vegetarian diet rather than vegan may be doing more harm for the planet than good.
The study found that by giving up meat and supplementing their intake with dairy products such as Halloumi cheese, and yogurt vegetarians only fractionally improve their carbon footprint.
Instead, the research found it would be far more beneficial to cut down on dairy products while increasing fruit and vegetable consumption as part of a diet that included one portion of meat a day.
In the UK alone, this so-called two-thirds vegan diet contributed the equivalent of 762.7 kg of Carbon Dioxide emissions per-person, compared with 1,265.2 kg for a vegetarian diet including dairy.
The research found that while meat is the most greenhouse gas intensive food, dairy is not far behind.
That is partly because the raising of dairy cows for milk, butter and cheese requires large amounts of energy and land, as well as fertilizers and pesticides to grow fodder.
Many climate activists and scientists have called for a shift to plant-based diets to keep climate change in check and reduce deforestation.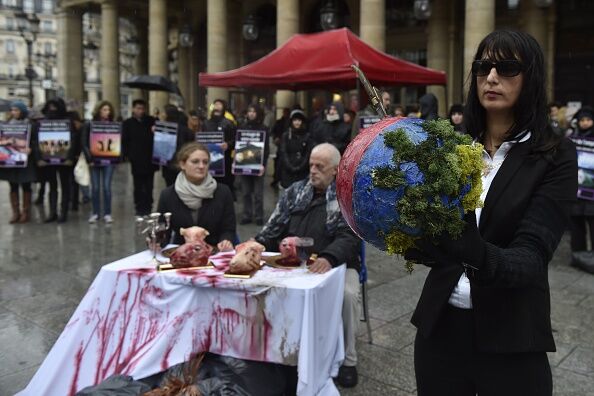 Vegan activists have set up a lunch table with lamb heads, during a protest of the "Vegan Impact" animal protection association, at the Place Colette in Paris, on January 30, 2016, during the World Day for the Abolition of Meat. AFP PHOTO / ALAIN JOCARD / AFP / ALAIN JOCARD (Photo credit should read ALAIN JOCARD/AFP/Getty Images)

The Pursuit of Happiness
Ken Webster Jr is a talk radio personality and producer from Houston, TX. He started his career in Chicago on the Mancow show and has since worked at dozens of radio stations all over the country. He's currently the host of Pursuit of Happiness...
Read more