Chicago Gang Members on Trial for Execution-Style Murder of 9-year-old
Dear God help us all - this is disgusting.
This happened in Chicago - the land of strict gun laws.
This city has witnessed almost 2,000 homicides since 2016, but few deaths have shaken a city accustomed to corpses and caskets as much the killing of nine-year-old Tyshawn Lee: a fourth-grader shot execution-style allegedly by gang members as an act of revenge against the boy's father after being lured into an alley with the promise of a juice box.
His alleged killers now stand trial.
The attack was a kind of callous brutality not commonly seen in street gang warfare largely because when children and other unaffiliated family members are intentionally targeted, the unspoken rules of combat become upended, criminal experts say.
Alleged gang members Dwright Boone-Doty, 26, and Corey Morgan, 31, are accused of planning the nine-year-old's murder as revenge after Morgan's brother, who was also a gang member, was killed and his mother wounded in a violent encounter that may have involved the boy's father who was part of a rival gang, according to prosecutors.
"There weren't many rules in this feud, but families were off limits. They were untouchable," prosecutor Margaret Hillmann said in her opening statements during the murder trial, which started Sept 17.
"Morgan wanted revenge," she said. "He was in a murderous rage, saying he was going to kill grandmas, mammas, kids and whoever he could catch."
Prosecutors say the duo approached the boy, still dressed in his school uniform, in November 2015 while he sat on a swing at a park after school on the city's South Side.
Boone-Doty allegedly picked up and started dribbling a basketball Tyshawn brought with him and struck up a conversation with the boy as he continued playing. He eventually convinced Tyshawn to follow him to a backstreet under the guise of buying him a snack while Morgan watched from a parked car, Hillman said in her opening statement.
That's where Boone-Doty allegedly shot the fourth grader point-blank multiple times and left him to die, prosecutors said. His basketball was found a few feet from his body.
The two men are facing first degree murder charges and are being tried together but before separate juries. Their trial is expected to last a few weeks.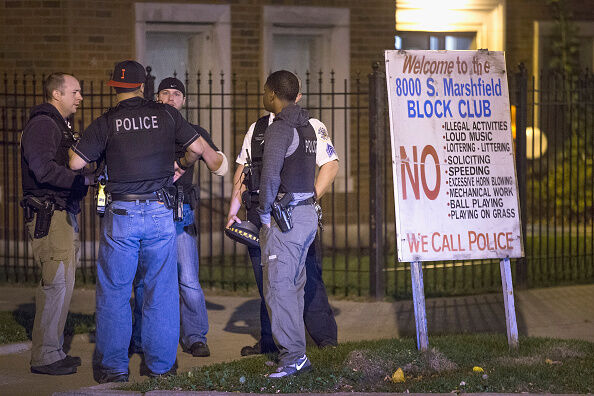 CHICAGO, IL - NOVEMBER 05: Police officers watch from across the street as people attend a candlelight vigil in memory of nine-year-old Tyshawn Lee outside his father's home on November 5, 2015 in Chicago, Illinois. Chicago Police Superitendant Garry McCarthy claims Lee was lured from a park into a nearby alley and executed because of his father's gang ties. Pierre Stokes, Lees father, denies being in a gang. (Photo by Scott Olson/Getty Images)

The Pursuit of Happiness
Ken Webster Jr is a talk radio personality and producer from Houston, TX. He started his career in Chicago on the Mancow show and has since worked at dozens of radio stations all over the country. He's currently the host of Pursuit of Happiness...
Read more