NYC Exporting Thousands of Homeless People to Texas
Update: the MDHA is disputing this news and suggesting it isn't true. At the time of this posting the NYPost reports the claim is still accurate & San Antonio's NBC affiliate has a similar report. Efforts by NYC government officials have recently seen Empire State homeless people exported to places like Louisiana and Hawaii so one can safely assume at many of the homeless being sent to Louisiana will ultimately end up in Texas despite the protests of MDHA, a group who admits dozens of families have already been sent to the Dallas area.
--------
First it was Louisiana, now Texas.
In an effort to rid their city of homeless people, NYC is exporting drug addicted street dwellers to the Lone Star State by the busload.
San Antonio's NBC affiliate reports:
More than 12,000 homeless New Yorkers are being relocated to about 370 cities around the country. San Antonio is expected to receive several people from New York, all of who are getting a year's worth of rent and money for furnishings, courtesy of NYC.
Other Texas cities receiving New York's homeless include Houston, Dallas, Austin.. and Helotes.
Wow, thanks, NYC - so generous of you.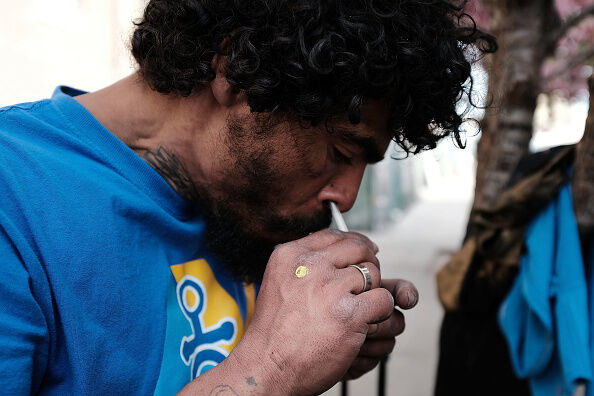 NEW YORK, NY - MAY 04: Eliezer, a 38 year old homeless heroin addict, snorts heroin in the Bronx on May 4, 2018 in New York City. Eliezer often snorts his heroin instead of injecting as he feels it lessens the chances of overdosing on the drug. In an attempt to reverse the number of overdose deaths, New York City could become the first city in the United States to adopt supervised injection facilities also known as safe injection sites. New York City Mayor Bill de Blasio has moved to open four safe injection sites which he has called Overdose Prevention Centers as part of a one-year pilot program. The Bronx was the borough with the highest number of overdose deaths in 2016 with 308 residents dying. (Photo by Spencer Platt/Getty Images)

The Pursuit of Happiness
Ken Webster Jr is a talk radio personality and producer from Houston, TX. He started his career in Chicago on the Mancow show and has since worked at dozens of radio stations all over the country. He's currently the host of Pursuit of Happiness...
Read more