Dumb: Mayor Pete Blames America for the Ukraine Plane Crash in Iran
Alfred E Neuman hates America.
After a Ukraine passenger plane recently crashed in Iran, Presidential dopeful Mayor Pete Buttigieg has blamed the United States for the incident.
Mayor Pete says it's America's fault that a country (who isn't America) very likely shot down a plane (that didn't have any Americans on board) and liberals think this narrative is just brilliant.
Former South Bend Mayor Pete Buttigieg is facing intense backlash for suggesting that America's "tit for tat" with Iran is responsible for the downed Ukrainian airplane.
The Ukrainian passenger plane that crashed shortly after taking off from Tehran's international airport Wednesday was shot down by mistake by an Iranian anti-aircraft missile, Pentagon officials told Fox News.
Officials said U.S. intelligence increasingly points at the airliner being accidentally struck by a Russian-made missile, killing all 176 people on board the flight, just hours after Iran fired more than a dozen ballistic missiles targeting two military bases housing American and coalition troops.
However, Buttigieg's response to the latest developments appears to place blame on both the U.S. and Iran for Iran's accidental firing.
"Innocent civilians are now dead because they were caught in the middle of an unnecessary and unwanted military tit for tat," Buttigieg tweeted. "My thoughts are with the families and loved ones of all 176 souls lost aboard this flight."
Obviously this logic is just about as libtarded as it gets.
I think Twitter user Neontaster put it best with this response.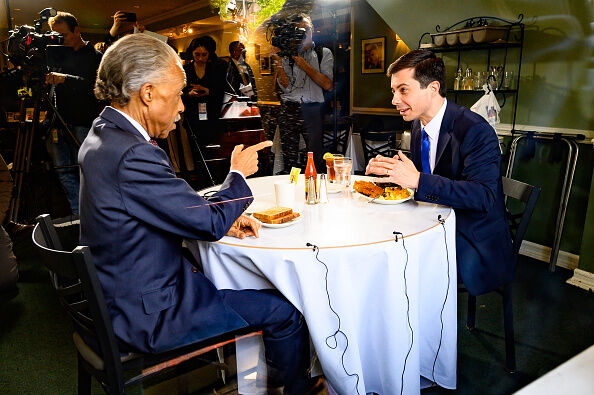 NEW YORK, NY, UNITED STATES - 2019/04/29: Mayor Pete Buttigieg (D) of South Bend, Indiana and Rev. Al Sharpton are seen at Sylvia's Restaurant as they eat lunch together in Harlem, New York City. (Photo by Michael Brochstein/SOPA Images/LightRocket via Getty Images)

The Pursuit of Happiness
Ken Webster Jr is a talk radio personality and producer from Houston, TX. He started his career in Chicago on the Mancow show and has since worked at dozens of radio stations all over the country. He's currently the host of Pursuit of Happiness...
Read more