Leaked DHS Report: Suicide Bomber Headed to US Border Through Mexico
Journalist Brandon Darby has obtained a leaked intelligence report from the Department of Homeland Security (DHS) that suggests a possible suicide bomber may be moving north toward the U.S.-Mexico Border from Guatemala.
Authorities are on high alert after receiving the warning.
The official report, which originated from Homeland Security Investigations (HSI), has been distributed to law enforcement agencies along the border.
According to the document, on January 8, 2020, the Yuma Sector Operations Center received information from HSI about a previously deported Guatemalan national named "…" who is allegedly leading a group of four Middle Eastern males and one female to the U.S. from Mexico. The female is described as a "suspected suicide bomber."
The report stated that according to HSI, the group already traveled through Guatemala, Belize, and is currently in Veracruz, Mexico. The described group is expected to travel to San Luis Rio Colorado in the Mexican state of Sonora, just south of Arizona.
"HSI reported they received information the group will be making entry into the U.S. through the All-American Canal in the next couple of days," the report revealed. The All-American Canal is located in California.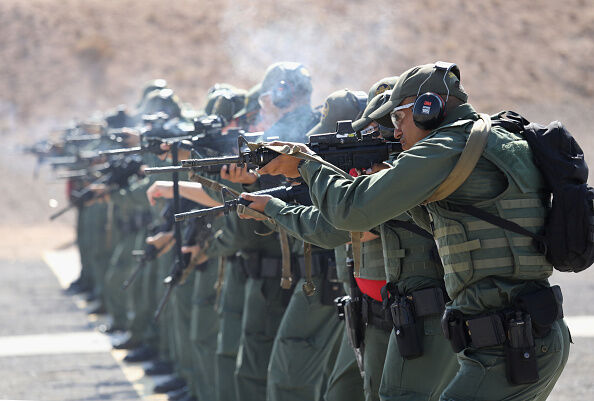 ARTESIA, NM - AUGUST 03: U.S. Border Patrol trainees fire M-4 rifles during a weapons training class at the U.S. Border Patrol Academy on August 3, 2017 in Artesia, New Mexico. All new agents must complete a rigorous months-long training course at the New Mexico facility before assuming their posts at Border Patrol stations, mostly along the U.S.-Mexico border. President Trump has pledged to add an additional 5,000 agents to the existing Border Patrol force of more than 21,000 as part of his border security policy. (Photo by John Moore/Getty Images)

The Pursuit of Happiness
Ken Webster Jr is a talk radio personality and producer from Houston, TX. He started his career in Chicago on the Mancow show and has since worked at dozens of radio stations all over the country. He's currently the host of Pursuit of Happiness...
Read more