Coronavirus May Have Links to Biowarfare Program: Analysts
China just celebrated their new year and while it's technically the year of the rat it feels more like the year of the coronavirus.
With thousands of reported cases in China and throughout the world, Americans are becoming increasingly concerned about this epidemic affecting our nation on a massive scale.
The common narrative among health experts suggests this viral outbreak started after people at Chinese wet-markets ate bats and snakes, but some intelligence experts believe the Chinese military's biowarfare department may be responsible.
The deadly animal-borne coronavirus spreading globally may have originated in a laboratory in the city of Wuhan linked to China's covert biological weapons program, said an Israeli biological warfare analyst.
Radio Free Asia last week rebroadcast a Wuhan television report from 2015 showing China's most advanced virus research laboratory, known the Wuhan Institute of Virology. The laboratory is the only declared site in China capable of working with deadly viruses.
Dany Shoham, a former Israeli military intelligence officer who has studied Chinese biological warfare, said the institute is linked to Beijing's covert bio-weapons program.
"Certain laboratories in the institute have probably been engaged, in terms of research and development, in Chinese [biological weapons], at least collaterally, yet not as a principal facility of the Chinese BW alignment," Mr. Shoham told The Washington Times.
Work on biological weapons is conducted as part of dual civilian-military research and is "definitely covert," he said in an email.
Mr. Shoham holds a doctorate in medical microbiology. From 1970 to 1991, he was a senior analyst with Israeli military intelligence for biological and chemical warfare in the Middle East and worldwide. He held the rank of lieutenant colonel.
China has denied having any offensive biological weapons, but a State Department report last year revealed suspicions of covert biological warfare work.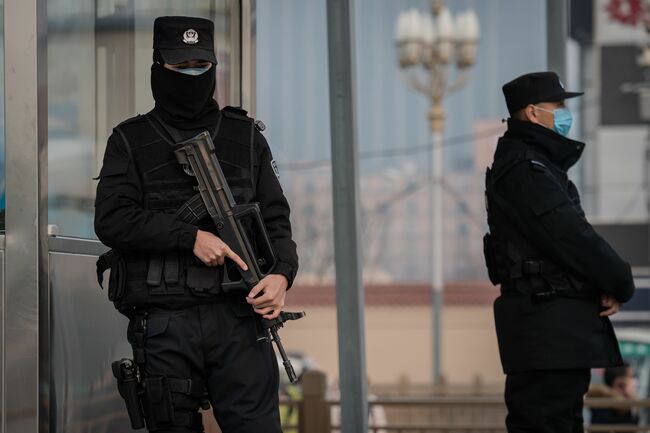 In this picture taken on January 27, 2020 police officers wearing protective facemasks to help stop the spread of a deadly virus which began in Wuhan, secure an area at the Beijing railway station. - The deadly new coronavirus that has broken out in China, 2019-nCoV, will afflict a minimum of tens of thousands of people and will last at least several months, researchers estimate based on the first available data. (Photo by NICOLAS ASFOURI / AFP) (Photo by NICOLAS ASFOURI/AFP via Getty Images)

The Pursuit of Happiness
Ken Webster Jr is a talk radio personality and producer from Houston, TX. He started his career in Chicago on the Mancow show and has since worked at dozens of radio stations all over the country. He's currently the host of Pursuit of Happiness...
Read more