Kidnapper Chases Woman Into Karate Dojo, Gets Beat Up
A guy in North Carolina tried to kidnap a woman last Thursday. So she ran into a karate studio, and an instructor took him down, then held him until cops showed up.
The instructor's name is Randall Ephraim. He talked to a reporter about how it happened, and said he doesn't think of himself as a hero.
Local media in Charlotte reported that August Williams was arrested after an instructor at Bushiken Karate Charlotte Dojo fended him off when he followed the woman into the school.

Police said Williams tried to force the woman into his car but she made it into the studio, WSOC-TV reported.

Williams was charged with attempted kidnapping, assault and other offenses related to the incident Thursday, WBTV reported. He allegedly had an altercation with police officers who arrived at the scene and was later taken to the hospital for his injuries.

"It's a great thing the people in there were able to help defend her, extremely lucky that it was a karate studio and usually you don't see a suspect act like this," police Capt. –JD Thomas said, per WSOC-TV.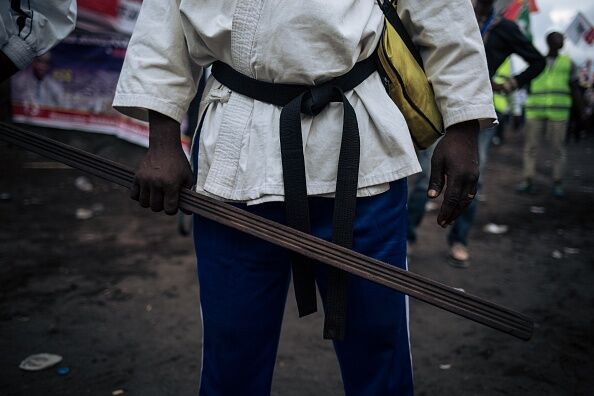 A security guard, wearing karate outfit, stands at the entrance of Stadium 'des Volcans' during the election rally of the presidential candidate Emmanuel Ramazani Shadary in Goma, North-Kivu, on December 16, 2018. - Tensions are rising in the vast, unstable country ahead of the December 23 election when voters will choose a successor to the President who has remained in power as a caretaker leader even though his second and final elected term ended nearly two years ago. (Photo by ALEXIS HUGUET / AFP) (Photo credit should read ALEXIS HUGUET/AFP/Getty Images)

Walton And Johnson
Want to know more about Walton And Johnson? Get their official bio, social pages & articles on KPRC AM 950!
Read more