NOLA: Robert E Lee Statue Enthusiast Banned From Mardi Gras
Meanwhile in New Orleans, where people get shot and killed while standing around on Bourbon Street, the Krewe of Freret banned a rider from all parades after an investigation found she tossed yellow flags that said New Orleans was "robbed" of Confederate monuments in the parade on Saturday February 23rd, according to NOLA.com.
Mimi Owens, the rider, said she also threw "Forever Lee Circle" beads with an image of Robert E. Lee on a pendant. She made the items herself and they were very popular last year.
Owens was notified of the "lifetime ban" from the Legion of Mars, an organization that claims to honor veterans (but not veterans of the Civil War, apparently).
Freret captain Bobby Hjortsberg said the krewe conducted a very thorough and serious investigation after hearing reports that someone was proud of their Southern heritage and had the audacity to throw Confederate monument-themed beeds in a city that was once proud of its heritage.
Owens made the flags herself and they contain an image of the Robert E. Lee statue being removed with a crane with the words: "Saints fans think they were robbed!!!" printed on the front.
What a buncha babies. 
Some people want to remember our history so we're not doomed to repeat it. Get over it, folks. They're just beads and flags. They can't hurt you.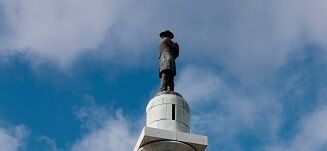 Walton And Johnson
Want to know more about Walton And Johnson? Get their official bio, social pages & articles on KPRC AM 950!
Read more