Swedish People Will Pay You To Do Nothing Forever (No, Really)
Would you like to be paid to do nothing for the rest of your life? We're being serious.
There's only one catch: you'll have to talk to Swedish people (yuck!).
Imagine: For the rest of your life, you are assigned no tasks at work. You can watch movies, read books, work on creative projects or just sleep. In fact, the only thing that you have to do is clock in and out every day. Since the position is permanent, you'll never need to worry about getting another job again.
Starting in 2026, this will be one lucky (or extremely bored) worker's everyday reality, thanks to a government-funded conceptual art project in Gothenburg, Sweden.
The employee in question will report to Korsvägen, a train station under construction in the city, and will receive a salary of about $2,320 a month in U.S. dollars, plus annual wage increases, vacation time off and a pension for retirement. While the artists behind the project won't be taking applications until 2025, when the station will be closer to opening, a draft of the help-wanted ad is already available online, as Atlas Obscura reported on Monday.
The job's requirements couldn't be more simple: An employee shows up to the train station each morning and punches the time clock. That, in turn, illuminates an extra bank of fluorescent lights over the platform, letting travelers and commuters know that the otherwise functionless employee is on the job. At the end of the day, the worker returns to clock out, and the lights go off. In between, they can do whatever they want, aside from work at another paying job. They're not even obligated to stay at the station all day long. They can quit or retire and be replaced by another worker anytime they want; otherwise, their employment is guaranteed for life. No specific qualifications are needed, and the artists overseeing the project assured Atlas Obscura that anyone in the world could apply.
"The position holds no duties or responsibilities, other than that it should be carried out at Korsvägen," the job description states. "Whatever the employee chooses to do constitutes the work."
Titled "Eternal Employment," the project is both a social experiment and a serious political statement. In early 2017, Public Art Agency Sweden and the Swedish Transport Administration announced an international competition for artists interested in contributing to the new station's design. The winner would get 7 million Swedish krona, the equivalent of around $750,000. Simon Goldin and Jakob Senneby, a pair of Swedish artists whose previous work was inspired by offshore banking, entered and suggested eschewing the typical murals and sculptures that adorn most transit hubs.
Sounds boring. But sometimes boring is great.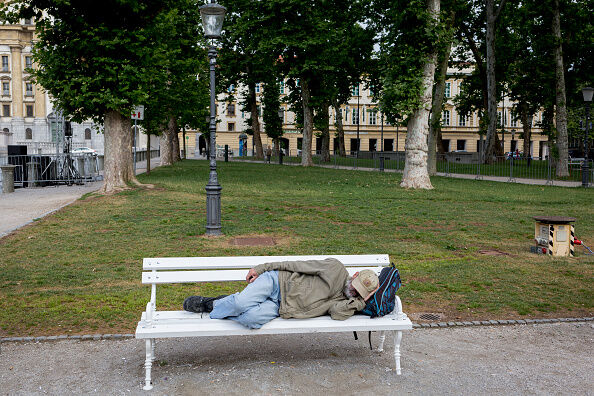 A man sleeps on a bench in Congress Square in the Slovenian capital, Ljubljana, on 25th June 2018, in Ljubljana, Slovenia. (Photo by Richard Baker / In Pictures via Getty Images)

Walton And Johnson
Want to know more about Walton And Johnson? Get their official bio, social pages & articles on KPRC AM 950!
Read more