Disturbing Recording of NFL's Tyreek Hill Child Abuse Investigation Leaked
Although Tyreek Hill hasn't had a long NFL career, he's quickly making a name for himself as a standout wide receiver for the Kansas City Chiefs.
Unfortunately the reputation he's making for himself has less to do with his athletic accomplishments and more to do with his purportedly history of child abuse.
Now a very disturbing leaked audio tape has surfaced that sheds new light on his deplorable behavior around small children.
Hill's legal issues started in 2014 when he was arrested for assaulting his then-pregnant girlfriend, Crystal Espinal. According to the police report, they got into an argument when Hill threw her around, punched her in the face, choked her, sat on her, and punched her multiple times in the stomach. Hill was dismissed from the Oklahoma State football team over the incident. He pled guilty and was sentenced to three years of probation and forced to undergo domestic-abuse evaluation. Espinal gave birth to a baby boy.
Things went quiet on that front until mid-March when news broke that police reports were filed over two incidents at Hill's home, one for battery and one for child abuse and neglect. Both incidents involved Hill's son, who had a broken arm (It should also be noted that Espinal is currently pregnant with twins). On Wednesday, a criminal investigation into Hill and Espinal over the incidents was closed with no files charged. While the DA made it clear that he felt a crime had been committed against a child, he did not think there was enough to bring charges.
That may change now that KCTV5 obtained a recording of Hill and Espinal discussing the police investigation. According to KCTV5, the recording was an "insurance policy" for Crystal Espinal if charges were not filed against Hill.
   Espinal sent it to at least one friend for safekeeping because she didn't feel she could keep a recording on her phone. It has since been shared and sent to us by someone who is concerned about the welfare of the couple's child.
The 11-minute recording includes the parents discussing what they're telling police about the investigation. Hill denies hurting his son but Espinal is heard arguing that she has been covered for Hill. Both parents accuse each other of using a belt on their son.
The most disturbing aspect of the recording was something their three-year-old son said and the ensuing reaction by Hill.
"Daddy did it," the boy's mother, Crystal Espinal, could be heard saying, paraphrasing the boy. "He is terrified of you."
Hill responded, according to the recording: "You need to be terrified of me, too, b—-."
Wow.  Say goodbye to endorsement deals, dedicated fans, a career and possibly your freedom if this goes where it looks like it's going.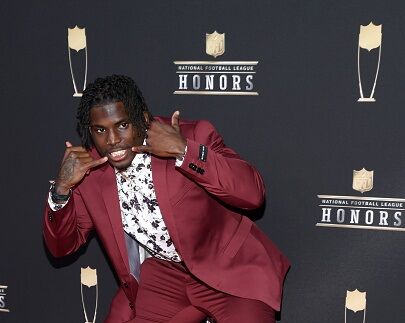 Photo of disgusting child-abusing thug by Getty Images

Walton And Johnson
Want to know more about Walton And Johnson? Get their official bio, social pages & articles on KPRC AM 950!
Read more