Kid Rock Putting Up Giant Middle Finger Statue
Kid Rock is getting a new lawn ornament for his Nashville home . . . a seven-foot-tall statue of a hand flipping the bird. 
He got the idea from a guy in Vermont, who did it to protest a town refusing to let him develop land. 
Check out the voicemail Kid Rock left the guy.
Ted Pelkey had an artist make him a large sculpture of a middle finger to protest his town's leaders who reportedly would not let him develop his land. 
The seven-foot-tall sculpture of a raised middle finger is carved from a 700-pound block of pine and perched atop a 16-foot pole. It's even lit up at night. 
The sculpture became a tourist attraction and the subsequent headlines caught the attention of Nashville resident Kid Rock. 
"I like your style. Thanks for getting us the info on that middle finger. I gotta have one of those somewhere on my property here in Nashville," said Rock in a voicemail to Pelkey. 
Pekley contacted the artist and had a second sculpture made for Kid Rock. 
The sculptor and his wife are headed to Nashville to deliver it themselves.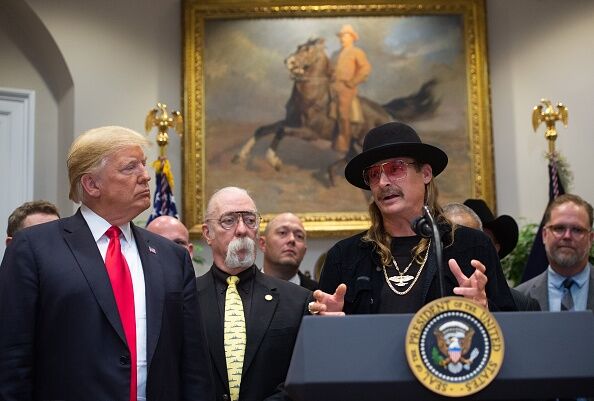 US President Donald Trump shakes hands with musician Kid Rock (R) after signing the Hatch-Goodlatte Music Modernization Act, a bipartisan bill aimed at ensuring artists who released records prior to 1972 are paid royalties from digital services, in the Roosevelt Room of the White House in Washington, DC, October 11, 2018. (Photo by SAUL LOEB / AFP) (Photo credit should read SAUL LOEB/AFP/Getty Images)

Walton And Johnson
Want to know more about Walton And Johnson? Get their official bio, social pages & articles on KPRC AM 950!
Read more