Woman Arrested While Asking CIA to Speak With 'Agent Penis'
Here's a pro-top, folks - don't antagonize the Central Intelligence Agency.
A woman in Virginia was arrested while trying to trespass on CIA property and asking to speak with, "Agent Penis."
Jennifer Hernandez, 58, claimed she had applied for a job at the agency and had an appointment with her recruiter at the complex in Langley, Virginia.
She was first stopped by security when she attempted to walk in through the main vehicle entrance on 22 April.
When her story failed to check out, a CIA police officer told her she could be arrested for trespassing if she did not leave.
Ms Hernandez then walked off, only to return on 1 May in a Lyft car. She was given a written warning and again told to leave.
The next day she returned in an Uber and stated that her phone was off and she wanted to "speak to her recruiter", according to the criminal complaint filed by police.
She left after being interviewed by police but returned on 3 May to ask for her North Carolina ID card, which had been left there on a previous visit.
Ms Hernandez also requested "to speak to Agent Penis", according to the criminal complaint.
She was given back her ID card and escorted out to the bus stop.
Officers waited with her until the bus arrived but she refused to board it and said: "I am not leaving."
She was arrested and charged with a Class B misdemeanor before being transferred to Alexandria city jail.
So you're saying there's no Agent Penis?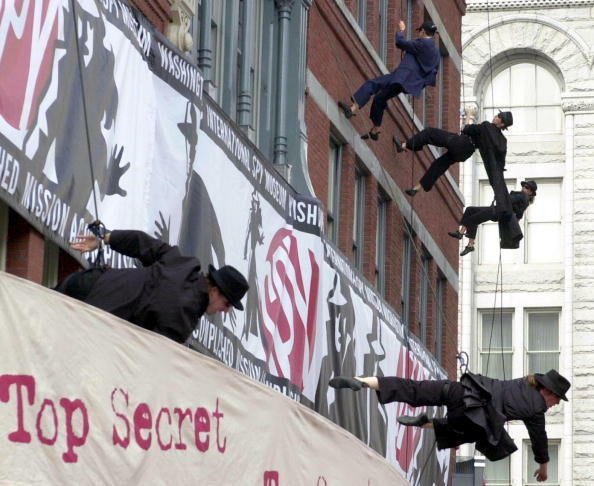 WASHINGTON, : "Spies" make their way down the building housing the International Spy Museum during opening ceremonies 19 July, 2002 in Washington DC. The museum explores craft, practice, history, and contemporary role of espionage. The museum, seven years in the planning, cost a total of 38 million USD. The collection was built through contacts of its board and advisory group, which includes former FBI, CIA and KGB counterintelligence officials. AFP PHOTO Joyce NALTCHAYAN (Photo credit should read JOYCE NALTCHAYAN/AFP/Getty Images)

Walton And Johnson
Want to know more about Walton And Johnson? Get their official bio, social pages & articles on KPRC AM 950!
Read more