Armed Thugs Demand Popeye's Chicken Sandwiches in Houston
The outrage over Popeye's Chicken Sandwiches just reached an absurd new level in Houston.
An armed group of people rushed the door of a Popeyes Chicken restaurant in southeast Houston Monday night demanding chicken sandwiches.
Houston police were called to the restaurant on Scott Street and Corder just after 9 p.m.
Employees told ABC13 a mob of two women, three men and a baby were told at the drive-thru that the chicken sandwiches were sold out, but that apparently triggered the would-be customers. That's when police said they tried to get inside the restaurant.
One man had a gun, but a restaurant worker was able to lock them out. All the while, the group left the baby inside their vehicle.
"It was more of an aggravated assault because he was displaying a weapon and threatened employees," said Lt. Larry Crowson with Houston Police.
Police said the man with the gun is being described as having small dreadlocks, tattoos on his face and was seen wearing a black shirt with red sleeves.The group left in a blue SUV.
Police are hoping security cameras captured the incident. Anyone with information is asked to contact Houston police.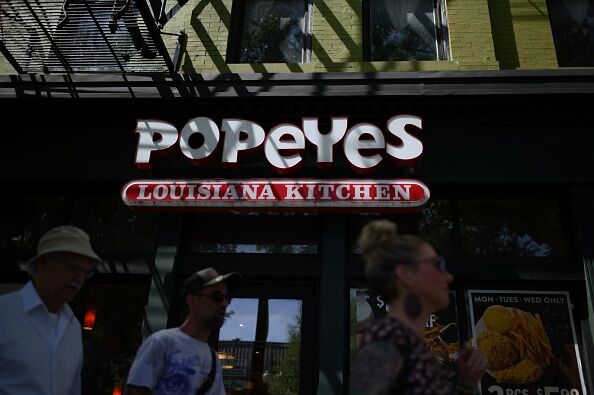 A Popeyes fast food chain restaurant is seen on August 30, 2019 on a street of Washington D.C. - Chick it out! US restaurant chain Popeyes launched a fried chicken sandwich which became such a social media sensation, the company has run out of stock nationwide, leaving would-be consumers crying fowl. On August 12, Popeyes unveiled its latest offering: a deep fried chicken breast on a brioche roll, with spicy mayonnaise and pickle slices. The fried chicken chain said they would let customers know when sandwiches are back. (Photo by Eric BARADAT / AFP) (Photo credit should read ERIC BARADAT/AFP/Getty Images)

Walton And Johnson
Want to know more about Walton And Johnson? Get their official bio, social pages & articles on KPRC AM 950!
Read more