'Cajun Navy' Heads to Hurricane Dorian
Once again the Cajun Navy proves there's nothing the government can do that private citizens can't do better.
These men are heroes.
The volunteer group — whichmadea huge impact in years past responding to Hurricane Katrina in 2005, comingto the aid of those in need after the Louisiana floods of 2016, and assisting with the aftermath of Hurricanes Harvey, Irma, Florence, and Michael in 2017 and 2018 — is now preparing to respond to the impacts made by Hurricane Dorian. However, the storm's uncertain path has left details of their response plan up in the air.
"Our first group is probably going to leave Monday or Monday night," Cajun Navy volunteer Ben Hussersaid, according to WAFB.
Husser said his team is currently eyeing three to four locations and looking to help those, specifically, who are less accessible and have fewer resources.
"A lot of states are self-sufficient. You take an area like Florida that has so many boaters. Finding people, citizens that are willing to help it's a little bit easier," Husser said.
"You take some of the areas that necessarily don't have that, North Carolina, for instance, has a lot on the coast, but when you go inland, you're not going to have that as much," he continued.
"So, we work more closely with those areas because they don't have those resources," he added. "And that's what's great about us, we act as that additional resource."
Hurricane Dorian is expected to skirt the eastern seaboard, but it is currently pummeling the Bahamas and moving west at a one mph pace. The northeast coast of Florida — as well as the coasts of Georgia and the Carolinas — remain in the cone of uncertainty:

National Hurricane Center✔@NHC_Atlantic
The 2 pm intermediate advisory on #Dorian is out: Life-threatening storm surge and catastrophic winds continue over Grand Bahamas Island. More: http://hurricanes.gov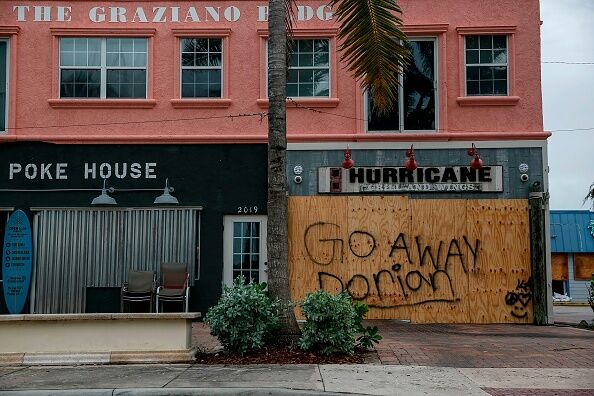 TOPSHOT - Businesses are seen shuttered near Fort Pierce Jetty Park, in Florida on September 2, 2019. - Monster storm Dorian stalled over the Bahamas Monday as surging seawaters and ferocious winds sowed chaos in low-lying island communities, claiming at least five lives and spurring mass evacuations on the US east coast. Lauderdale-Hollywood International Airport closed at noon due to a mandatory closure order due to winds associated with Hurricane Dorian. Monster storm Dorian came to a near stand-still over the Bahamas, prolonging the agony as surging seawaters and hurricane winds made a shambles of low-lying island communities and spurred mass evacuations along the US east coast. It weakened slightly Monday to a still-devastating Category 4 storm, punishing Grand Bahama Island with "catastrophic winds and storm surge," the Miami-based National Hurricane Center said in its 1500 GMT bulletin. (Photo by Adam DelGiudice / AFP) (Photo credit should read ADAM DELGIUDICE/AFP/Getty Images)

Walton And Johnson
Want to know more about Walton And Johnson? Get their official bio, social pages & articles on KPRC AM 950!
Read more