Trump: Eddie Rispone's Going to Be a Great Louisiana Governor (video)
Yesterday President Donald Trump visited Monroe, Louisiana for a rally to promote gubernatorial candidate Republican Eddie Rispone.
While visiting Cajun country he told journalist Jeff Horchak, "Well, Eddie's going to be a great governor. He's a brilliant businessman. Your insurance costs are way too high. Your taxes are way too high. You're actually 50th in terms of economic development. And yet you're setting records because of what we've done at the federal level, including the big plant, a couple of really big LNG plants. But Eddie will turn this around so fast. I mean, for you to pay auto insurance rates, like your paying is ridiculous. So he'll turn it around very quickly. It'll be a great governor."
On the topic of Governor "John Bel", as 10%ers refer to him, and his damaging affect on the Louisiana economy, President Trump said, "He hasn't done well. When you're number 50 out of 50. And, you know, I view this as being a tremendous place, as you say, I come here a lot. I was just here for the big ribbon cutting with a $10 billion plan. But he hasn't done the job. His taxes are too high. He has people that are just not building here. They're building in other locations, which really means not building. It means jobs. And so John Bel Edwards has not been a good governor and he's never going to be with us whether it's Second Amendment or anything else. He's never going to vote for us. I've been through with many other Democrats, they talk Trump, Trump, Trump, and then they don't they never vote for us."
Here's video from last night's rally.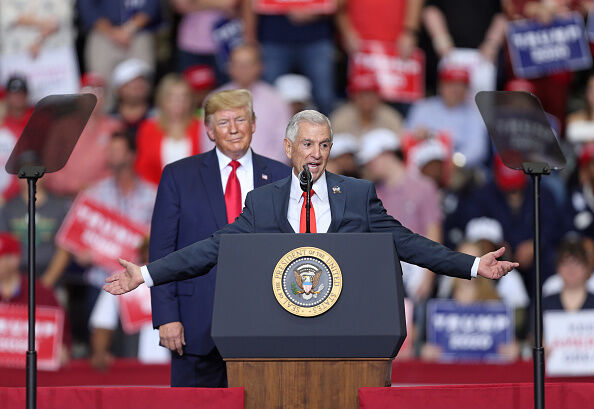 MONROE, LOUISIANA - NOVEMBER 06: Louisiana Republican candidate for governor, Eddie Rispone (C-R) speaks alongside U.S. President Donald Trump during a "Keep America Great" rally at the Monroe Civic Center on November 06, 2019 in Monroe, Louisiana. President Trump headlined the rally to support Louisiana Republican gubernatorial candidate Eddie Rispone, who is looking to unseat incumbent Democratic Gov. John Bel Edwards. (Photo by Matt Sullivan/Getty Images)

Walton And Johnson
The legacy of the Walton & Johnson show continues after 4 decades as Steve Johnson hosts with longtime producer Ken Webster Jr. The show is a mix of comedy, politics, pop culture and history that pokes fun at the absurdity of everyday life....
Read more