LSU Fans Drink More Beer Than Any Other Football Team
Congratulations to the football fans of South Louisiana for proving they can have more fun than anyone else in the SEC... Did we say the SEC? We meant all of college football combined.
The Wall Street Journal reports:
...nobody was surprised when LSU fans managed to consume nearly 55,000 beers in one October game. They were proud of this achievement—at least until the very next game. That's when LSU fans smashed their own record. By the time the game was over, Tiger Stadium had sold 60,687 beers, according to a university spokesman.
That win in October crowned LSU as the No. 1 team in college football and put the Tigers on the road to Monday's national championship against Clemson. It was also the game that reminded the nation that LSU has always been at the top of the polls when it comes to boozing.
There is now data to support their claims of drinking superiority after the first season that the Southeastern Conference allowed member schools to sell alcohol in their football stadiums. It was a policy shift worth millions of dollars to LSU: Selling booze in Tiger Stadium is a bit like selling water in a desert.
LSU: number one for beer consumption! Nobody has more fun than South Louisiana.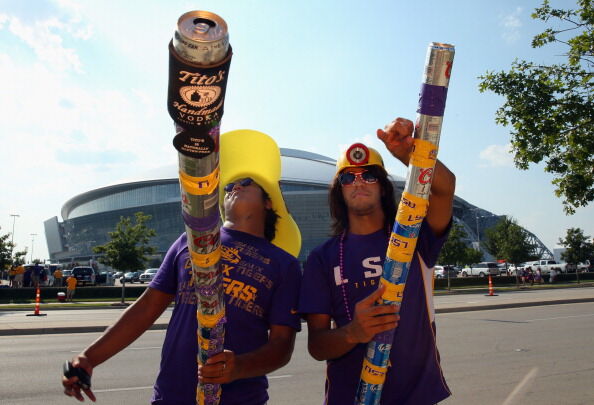 ARLINGTON, TX - AUGUST 31: A LSU Tigers fan drinks a beer while tailgating before a game against the TCU Horned Frogs at AT&T Stadium on August 31, 2013 in Arlington, Texas. (Photo by Ronald Martinez/Getty Images)

Walton And Johnson
Want to know more about Walton And Johnson? Get their official bio, social pages & articles on KPRC AM 950!
Read more