LSU's Coach O Just Cashed In Big Time!
There's a rule in college football: if you win the national championships, you get paid!
Coach O and the LSU Tigers beat Clemson 42-25 and now the leader of the squad is sbout to get paid!
How much? Try $42 million over the next 6-years.
Dang! That's a lotta crawfish!
LSU athletic director Scott Woodward said, "Coach O has set a new standard at LSU. He has proven that he is not only a championship coach, but also a leader of a program committed to doing things the right way. He has represented our institution and our state with great pride, on and off the field of play. He is well-deserving of this new contract, which should make clear our commitment to Coach O and the direction of our football program."
Congratulations, Coach O! You are now the richest Cajun on earth!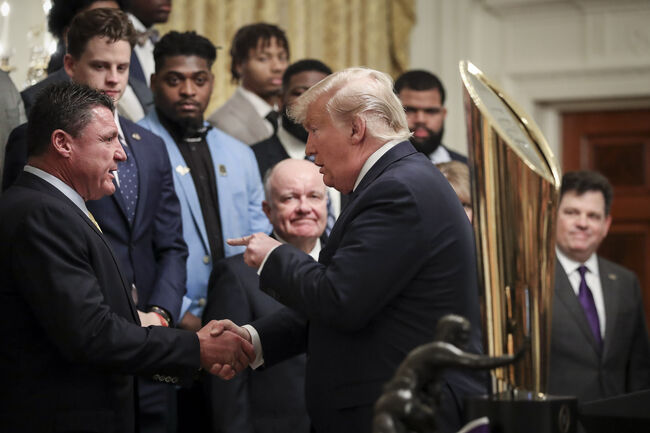 WASHINGTON, DC JANUARY 17: (L-R) Louisiana State University head coach Ed Orgeron shakes hands with President Donald Trump during an event to honor this year's NCAA football champions LSU Tigers in the East Room of the White House on January 17, 2020 in Washington, DC. LSU defeated Clemson in the National Championship Game to cap off an undefeated season.(Photo by Drew Angerer/Getty Images)

Walton And Johnson
The legacy of the Walton & Johnson show continues after 4 decades as Steve Johnson hosts with longtime producer Ken Webster Jr. The show is a mix of comedy, politics, pop culture and history that pokes fun at the absurdity of everyday life....
Read more