Tales of a Single Dad: Honesty Is Everything
Joseph Scialabba is a single father from the Chicago area who unexpectedly lost the mother of his child to drug addiction. This blog post chronicles his experience with raising a female child alone in the 21st century.
-------------------------
One future day I'm already dreading, that I've run over a million times in my mind, isn't my daughters first date, or the first time she gets her heart broken. It's the day she asks me what really happened to her mom, how it all really went down. While I've spent what seems to be a million hours contemplating my response to this, I know that when it occurs, there's only one way to answer, and that's with the truth. Honesty over everything, there's no dressing up what happened, while I have and will always try to shield her from the brutal savagery of it all, I owe her the truth.
The truth is a funny concept to a lot of people, it's viewed more as an interpretive process whereas you can give out nuggets of reality and ignore or keep compartmentalized. I don't believe that's beneficial to anyone, if you can't be honest with people, your loved ones, and yourself, then I think it is truly a waste of energy. People that aren't comfortable with the truth end up fragile and broken when confronted with life's sheering and utter brutality. While there's beauty in the struggle, there's beauty in the truth, no matter how warped it may be some time.
There are some that will always avoid truth, content to wander in the created virtual reality they wrap themselves in. Free from anything that may cause their stomach to turn or heart to skip. We never really had those chances, I had tough life qualities from an early age and while I did my best to create a perfect world for my girl, she has encountered the same. Truth is what sets us apart, its what makes us different than most. We know that sometimes you have to accept things for what they are, not what we wish them to be, and that while they can be changed, sometimes they cannot.
I don't want her to be the one that can't deal with life's realities as handed, that goes to pieces because things don't go her way that keeps going back to a cheating or abusive spouse because she thinks they will change. The truth of the matter is that most people will never change themselves, or their surroundings. They are who they are, and while capable of change, are more content to change their circles to people that agree with their faults and flaws, rather than put in the work to change themselves.
She needs to know that she controls her life, she controls her destiny. No matter how the chips are laid out or the struggle involved, that with work and tenacity all can be overcome. Truth is the foundation for being able to do battle in the real world, whether its relationships, careers, family struggles, or just your own personal demons. There was no evading the truth that cold February morning. I knew our lives were changed forever, I had to accept the truth that we were on our own, and that it was all on me. One day she will ask the question, and she will get the truth, for better or worse we are all deserved of it.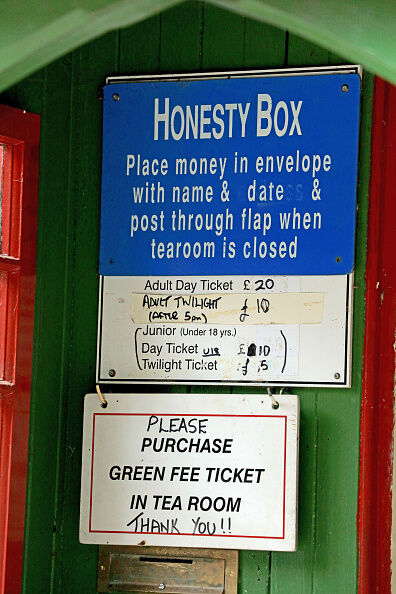 ISLE OF ARRAN, SCOTLAND - JULY 24: The honesty box notice at the original clubhouse hut at Corrie Golf Club, in Sannox on July 24, 2018, Isle of Arran, Scotland. (Photo by David Cannon/Getty Images)

The Pursuit of Happiness
Ken Webster Jr is a talk radio personality and producer from Houston, TX. He started his career in Chicago on the Mancow show and has since worked at dozens of radio stations all over the country. He's currently the host of Pursuit of Happiness...
Read more