Trump is Right: Prison Reform is a Relief to Tax Payers
For decades liberty-advocates have complained about the needlessly negative consequences of our war on drugs and other draconian punishments for non-violent criminals. Libertarians, liberals and conservatives alike have voiced concern over the high number of people in our prison system and the high costs this puts on our own personal liberties (not to mention our pocket books).
Well, after years of everyone agreeing that this is a problem but not taking action, things are finally moving in the other direction. President Donald Trump is going to support a bipartisan bill to reform federal sentencing guidelines.
According to Trump, this will "reduce crime while giving our fellow citizens a chance at redemption."
The First Step Act is the first major alteration of the nation's criminal justice sentencing laws to come along in years. The intention of the bill is to boost rehabilitation efforts for federal prisoners and give judges more discretion when sentencing nonviolent offenders. This will have a huge effect on the sentencing for illegal drug offenders.
The bill will lower the mandatory minimum sentence for non-violent repeat drug offenders from 25 to 20 years. It also reduces mandatory minimums for other crimes from 20 to 15 years. One particularly interesting aspect of the law is that it makes no distinction between powder cocaine and crack cocaine.
Senator Mike Lee said, "President Trump has always been a strong voice for tough on crime policies, and his endorsement of bipartisan criminal justice reform is a huge win for the American people."
According to the US Bureau of Justice Statistics, there are as many as 2,200,00 adults incarcerated in US federal and state prisons. While this bill only affects people in Federal prisons, it's definitely a step in the right direction. Let's see if we can inspire all 50 states to follow the Federal government's lead (I can't even believe I just said that out loud, but it's true - for once, the Federal government is getting it right).
The US prison system spends about $40 billion a year housing inmates. Considering the high costs to tax payers, why wouldn't we want prison reform?

Thanks, lawmakers and POTUS, for fixing a mistake that we've been ignoring for decades.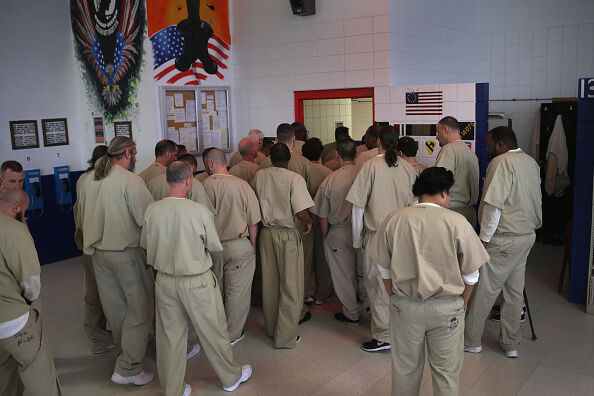 ENFIELD, CT - MAY 03: Incarcerated military veterans leave the Veterans Unit at the Cybulski Rehabilitation Center on May 3, 2016 in Enfield, Connecticut. The Veterans Unit houses some 110 prisoners, all U.S. military veterans convicted of crimes ranging from petty larceny to murder and typically with less than two years left on their sentences. The unit is part of a Connecticut Department of Correction program to turn some prisons into reintegration centers to prepare inmates for successful re-entry into society. Criminal justice and prison reforms are taking hold with bi-partisan support nationwide in an effort to reduce prison populations and recidivism. The state's criminal justice reforms fall under Connecticut Governor Dannel Malloy's 'Second Chance Society' legislation. (Photo by John Moore/Getty Images)

The Pursuit of Happiness
Ken Webster Jr is a talk radio personality and producer from Houston, TX. He started his career in Chicago on the Mancow show and has since worked at dozens of radio stations all over the country. He's currently the host of Pursuit of Happiness...
Read more