Obama Tear Gased People Every Month Of His Presidency
We've seen the photos of the mother and her two barefoot, diaper-clad children dashing away from the tear gas canister. (Which makes me wonder how on earth did she provide Pampers to those babies on a 2500 mile journey--And those kids look kinda big--why are they still in diapers?). And we've heard one of the Democrat Senators from Hawaii liken the use of tear gas to the use of chemical weapons. Clearly, this atrocity should NEVER happen!
Except, it seems that the Trump administration is not the first to use tear gas and pepper spray on unruly border jumpers.
In fact, the Obama Administration used it on average more than once a month during the later years of his tenure. Reminder: Government fiscal years go from October 1 to September 30. We started fiscal 2019 on October 1st this year.
U.S. Customs and Border Protection has used 2-chlorobenzylidene malononitrile, or CS, since 2010, and deployed it 26 times in fiscal 2012 and 27 times in 2013. The use dropped after that, but was still deployed three times in 2016, Mr. Obama's final full year in office. Use of CS rose again in fiscal 2017, which was split between Mr. Obama and Mr. Trump, and reached 29 deployments in fiscal 2018, which ended two months ago, according to CBP data seen by The Washington Times.
Well, isn't that interesting? Why wasn't this bigger news five years ago? Could it be that policing the border at the time was deemed good for the country? Because someone might have been up for re-election, and he needed a little help to distract from the crap economy and Benghazi fiasco?
Just sayin'.
It also seems that pepper spray was deployed quite frequently during the Obama years as well, reaching a decade-high 151 times during fiscal 2013. It was only used 48 times during fiscal 2018.
On CNN this weekend, host Erin Burnett was skeptical of the Border Patrol's claim that the use of tear gas to keep migrants from tearing down the fence was necessary, claiming the government was targeting women and children.
Brandon Judd, the president of the National Border Patrol Council, was having none of her outrage, questioning where the critics were when tear gas was deployed under Mr. Obama.
"This policy that we use was an Obama-written policy and it was used in 2013 at the same port of entry,"
"The facts are, the policy written under President Obama allows us to use tear gas to disperse a crowd that was very dangerous,"
"The tear gas was not deployed at the children," Mr. Judd countered Ms. Burnette, saying migrants were attempting to use them as human shields.
Migrants seeking asylum don't rush the border. They don't throw rocks at the Mexican and US authorities. And they most certainly don't use women and children as human shields.
But let's not let facts get in the way of a good story.


Sandra Peterson
Follow me on Twitter (for now) @janevonmises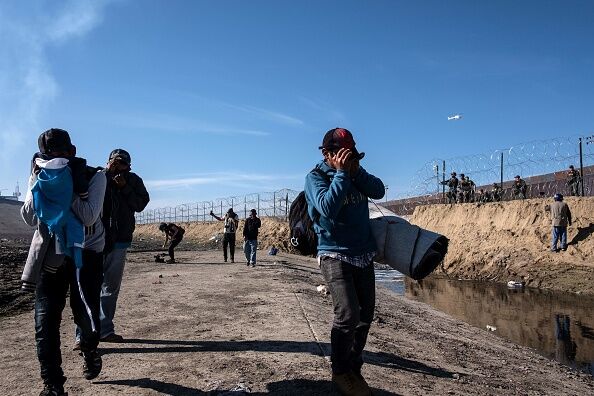 The Pursuit of Happiness
Ken Webster Jr is a talk radio personality and producer from Houston, TX. He started his career in Chicago on the Mancow show and has since worked at dozens of radio stations all over the country. He's currently the host of Pursuit of Happiness...
Read more