Beto O'Rourke wants to remove Confederate Plaque from Texas Capitol
Fake Hispanic and unemployed Irish-American politician Robert Francis "Beto" O'Rourke is not a big fan of Texas' history. After failing in his recent campaign to unseat Senator Ted Cruz, Beto has decided to focus his efforts towards removing historic objects from the Lone Star State.
Last week Beto took to Twitter to call for the removal of a Confederate plague hanging in the Texas State Capitol building.
"Take it down today," he told his followers.
The text displayed on the plaque is the Children of the Confederacy's creed, which reads, "to study and teach the truths of history (one of the most important of which is, that the War between the States was not a rebellion, nor was its underlying cause to sustain slavery)."
Beto isn't alone in seeking to remove this inanimate object. Texas Democrat lawmaker Eric Johnson also demanded the marker be removed.
Eric says it isn't accurate and he's very offended.
Last month, Johnson asked the Capitol's art curator to relocate the plaque so it would not be visible to the public.
The State Preservation Board is currently reviewing the procedure for removing a historical item.
Beto has a history of trying to remove Confederate related historical items from Texas public spaces but, in the words of George Santayana, "Those who forget history are doomed to repeat it."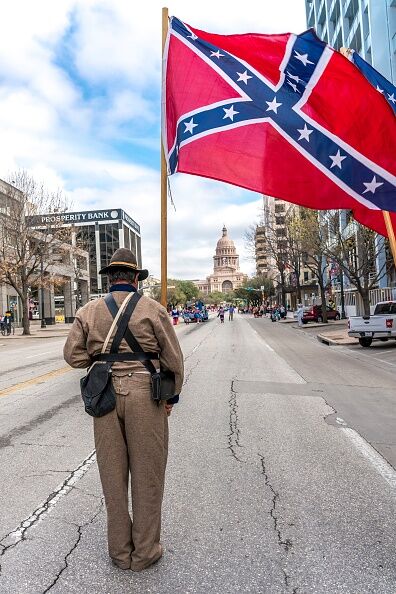 Austin, Texas, Confederate Flag at annual Texas Independence Day parade to the Texas Capitol. An official state holiday, the day celebrates Texas' declaration of independence from Mexico on March 2, 1836. (Photo by: Visions of America/UIG via Getty Images)

The Pursuit of Happiness
Ken Webster Jr is a talk radio personality and producer from Houston, TX. He started his career in Chicago on the Mancow show and has since worked at dozens of radio stations all over the country. He's currently the host of Pursuit of Happiness...
Read more