Rodeo Houston Headliner Threatens to "Dog Walk" Tomi Lahren
Rapper and Rodeo Houston headliner Cardi B got into a Twitter spat with Fox News personality Tomi Lahren over the government shutdown.
The exchange began with Lahren calling out Cardi B, a former stripper and member of the Blood street gang, for a recent viral video that depicted the entertainer commenting on the government shutdown and saying Trump supporters are just racist rednecks.
Tomi said, "Looks like @iamcardib is the latest genius political mind to endorse the Democrats. HA! Keep it up, guys!"To which Cardi replied, "Leave me alone I will dog walk you."Tomi snapped back, "I'm sure you would. Still doesn't make your political rambling any less moronic. #BuildThatWall"
It sounds like Cardi got a little bit of help from a ghost writer with her response. She said, "You're so blinded with racism that you don't even realize the decisions the president you root for is destroying the country you claim to love so much .You are a perfect example on no matter how educated or smart you think you are you still a SHEEP!"
Finally Cardi B, a proud outspoken Democrat, started complaining about taxes.
"Im paying about 4 million in taxes this year so most likely I am Paying for your insurance ....That's if your favorite president don't take my tax money for his wall Mr white bread."
The irony is thick on this one. A Democrat complaining about paying taxes is kind of like a mass murderer complaining about getting blood on his hardwood flooring.
Cardi B will be performing at Rodeo Houston on March 1, 2019.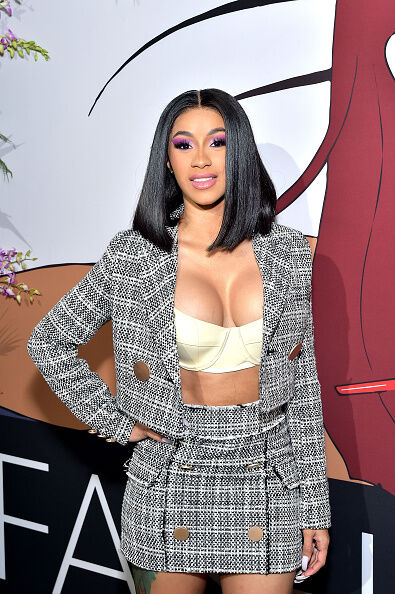 HOLLYWOOD, CA - NOVEMBER 14: Cardi B attends the Fashion Nova x Cardi B Collaboration Launch Event at Boulevard3 on November 14, 2018 in Hollywood, California. (Photo by Stefanie Keenan/Getty Images for Fashion Nova)

The Pursuit of Happiness
Ken Webster Jr is a talk radio personality and producer from Houston, TX. He started his career in Chicago on the Mancow show and has since worked at dozens of radio stations all over the country. He's currently the host of Pursuit of Happiness...
Read more