Migrant With Flesh-Eating Bacteria Detained at Border
An illegal immigrant detained in New Mexico near the Southern border brought a unique souvenir with him - a flesh-eating bacteria.
Border Patrol spokesman Carlos Antunez said Friday said the man was taken to a hospital after telling a federal agent he had a growing rash on his leg.
The rare condition, known as necrotizing fasciitis, can spread very quickly and is often fatal.
The bacteria usually gets into the body through a minor cut and causes a serious infection that destroys muscle, skin and other tissue.
Considering the devastating toll illegal immigration takes on our economy, middle class workers and America's general public safety, this is just one more reason why we need to vet every immigrant who enters our country. If the Democrats had it there way, this guy would have walked right over the border and into your community.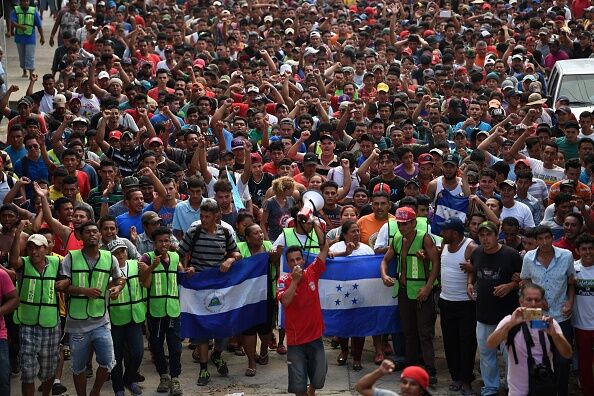 Honduran migrants heading in a caravan to the US, hold a demonstration demanding authorities to allow the rest of the group to cross, in Ciudad Hidalgo, Chiapas state, Mexico after crossing from Guatemala, on October 20, 2018. - Thousands of migrants who forced their way through Guatemala's northwestern border and flooded onto a bridge leading to Mexico, where riot police battled them back, on Saturday waited at the border in the hope of continuing their journey to the United States. (Photo by Pedro Pardo / AFP) (Photo credit should read PEDRO PARDO/AFP/Getty Images)

The Pursuit of Happiness
Ken Webster Jr is a talk radio personality and producer from Houston, TX. He started his career in Chicago on the Mancow show and has since worked at dozens of radio stations all over the country. He's currently the host of Pursuit of Happiness...
Read more