Starbucks' Howard Schultz: the Ross Perot of 2020
Remember Ross Perot? A right-wing populist who ran as an independent against HW Bush & Clinton in 1992, Perot was tough on immigration & trade deals. He was kind of like the original Donald Trump.
I say "kind of" because Perot lost.
But if history repeats itself, and it often does, we may see a similar Perot-like effect on the 2020 election that we previously saw back in the early 90s. Only this time, it's gonna hurt the Dems, not the Bush Dynasty.
Howard Schultz, the former Starbucks boss who spent way too much time virtue signalling on political causes when he should have been selling coffee, says he wants to run as an independent in 2020.
But Schultz's core supporters aren't conservatives. This is the guy who was an outspoken critic of gun rights and a huge supporter of the #BlackLivesMatter movement, both rare controversial political opinions for a high-ranking corporate billionaire to express to the public.
Former Starbucks CEO Howard Schultz told CBS News' "60 Minutes" Sunday that he is "seriously thinking" of making a run for the White House in 2020 as a "centrist independent," decrying what he called "revenge politics" by both mainstream political parties.




"We're living at a most fragile time, not only the fact that this president is not qualified to be the president, but the fact that both parties are consistently not doing what's necessary on behalf of the American people," said Schultz, who specifically cited the spiraling national debt as "a reckless example, not only of Republicans, but of Democrats, as well, as a reckless failure of their constitutional responsibility."




Late Sunday, The New York Times reported that Schultz would spend the next three months traveling around the country promoting his new book "From the Ground Up: A Journey to Reimagine the Promise of America" before he makes a final decision about whether or not to run. He has stops this week in New York; Tempe, Arizona; Seattle; and San Francisco — but no dates listed for the early voting states of Iowa or New Hampshire.




Hours before the "60 Minutes" interview aired, Schultz sent his first message on Twitter, where he's had an account since September 2012.




"It feels good to be here," he wrote. "My hope is to share my truth, listen to yours, build trust, and focus on things that can make us better."




Schultz tweeted again after the interview aired, writing: "This moment is like no other. Our two parties are more divided than ever. Let's discuss how we can come together to create opportunities for more people."




The prospect of an independent run by Schultz, who described himself as a "lifelong Democrat" and has given approximately $150,000 to Democratic campaigns over the years, has caused consternation among the party's establishment who fear he might siphon votes from whoever the Democrats nominate to challenge President Trump.




"Howard Schultz running as an independent isn't about bringing people together," said Tina Podlodowski, the Democratic Party chair in Schultz's adopted home state of Washington, in a statement late Sunday. "It's about one person: Howard Schultz."




Neera Tanden, the president of the liberal Center for American Progress, tweeted Saturday that she would boycott Starbucks if Schultz threw his hat into the presidential ring.
While it might seem hard to believe, a left-wing Schultz campaign could be the gift that Republicans need in 2020.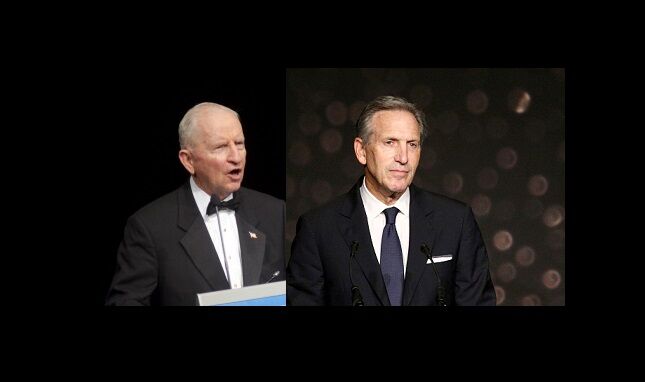 The Pursuit of Happiness
Ken Webster Jr is a talk radio personality and producer from Houston, TX. He started his career in Chicago on the Mancow show and has since worked at dozens of radio stations all over the country. He's currently the host of Pursuit of Happiness...
Read more