Quanell X is Back: Going After Baytown Police Without a Law Degree (video)
It was one year ago this month when the New Black Panther Party announced they would no longer be associated with Houston-based activist Quanell X. The organization he previously claimed allegiance to said Quanell had taken money from individuals in dire straights without offering them anything in return and they were forced to distance themselves from their former leader. 
We've heard these stories before: a young African-American man gets arrested somewhere in the greater Houston area and feels he's been dealt an unfair hand by the legal system. That's when said black man's mother (or wife or sister) empties out their bank account to activist Quanell X with the promise he's going to help free her son (or husband, or brother... you get the idea). 
But Quanell isn't a lawyer, so as the man's legal case begins to move forward, Quanell can't do much more than organize a press conference and talk about the incident on social media to his modestly sized following of supporters.  In many cases individuals who hired Quanell have claimed he was no where to be found after they handed over the bag of cash.  Whether that's entirely true or not is a matter of opinion (I've never hired him) but that's what a group of outraged individuals from the African-American activist community of Houston claimed in early 2018. Quanell allegedly did this for years - taking money, proclaiming himself to be an activist and appearing on local TV news segments to discuss hot button issues. 
After the outrage over Quanell's purported lack of effort to help his clients, he kind of faded out for a year, disappearing from local media outlet appearances and the public eye at large (at least, as far as we know). But now it's 2019 and it's almost as though people forgot why they were mad at the man. 
Quanell has recently taken up a new case involving racism allegations against the Baytown police department. The incident reportedly occurred when police took down a suspect who was accused of fleeing during a traffic stop and punching a K-9 officer. Yes, there's video (see below). 
Quanell X says Baytown police Officer Nathaniel Brown repeatedly targets African-American men and women and threatens and intimidates them when they come to Baytown police headquarters to file complaints.
Yesterday afternoon the Baytown police released a body camera video of a foot chase and arrest of Raphael White. Police say Brown pulled White over for failing to signal while making a turn. They ordered White to get out of the car and that's when he took off running. Police found White hiding in a nearby shed. They used a Taser but it ineffective so a K-9 was called out to assist. That's when he apparently punched the dog. 
White has been charged with evading on foot and injury to a public service animal. White had traffic tickets that he hadn't previously reported to court to address, so that's why the fled, but he says he couldn't risk getting fired over missing work so he fled on foot. White also claims the officers used the dog to torture him.  Now Quanell X is trying to make the case that White is a victim, not a suspect. His injuries from the dog forced him to spend four days in a hospital. He wants the Harris County District Attorney to investigate.
So.... I gotta ask.... How much did White's mom pay Quanell X?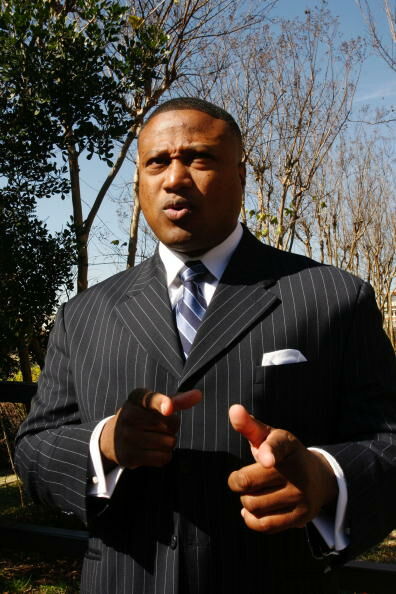 The Pursuit of Happiness
Ken Webster Jr is a talk radio personality and producer from Houston, TX. He started his career in Chicago on the Mancow show and has since worked at dozens of radio stations all over the country. He's currently the host of Pursuit of Happiness...
Read more