Houston: Mayor Turner Drills Pothole So He Can Fix It. No, Really.
What did Houston do to deserve such a horrible Mayor?
For those who don't remember, Sylvester Turner campaigned on one key issue that everyone in Houston, Republicans/Democrats/Independents alike, can agree on: we need to fix the potholes.
Back in 2015 Turner couldn't stop talking about potholes!  Considering he was replacing a woman whose chief administrative goals included changing the bathroom laws so older men could share a stall with little girls, it's easy to see why Turner made potholes his main talking point.  Even for local Democrats, Annise Parker was too far to the left at the end of her time in office and Turner needed to separate himself from his party mate's policy positions. 
Even still, after Turner was elected potholes became the least of his concerns. From appearing at the Superbowl to speaking out against the fossil fuel industry, Mayor Turner got really bored with fixing our city's roads after he achieved his goal of being elected.  Today you can drive around Houston in any given direction and you'll see just as many potholes as you did before he was placed into office.
Well, now it's 2019 and Turner is up for reelection. That means he needs to reignite the excitement about filling potholes because, after all, what the hell could he possibly do to get Houstonians excited about his campaign?
Yesterday the Mayor made a public appearance to recommit himself to the pothole issue we have in the city.
As attorney Tony Buzbee explained on Twitter, "To illustrate his commitment, he demonstrated how the city would repair a pothole by filling one himself. A reporter confirmed to me that the pothole filled by the mayor in the demonstration was actually cut into the street for the demonstration. We have thousands of potholes all over our Houston streets. Rather than filling one of those, his team made another."
Folks, this is baffling!  In a city filled with potholes, Mayor Turner literally created a pothole to demonstrate how to fix one.  
Couldn't he have just filled one of the potholes that already existed? Yes, of course, but Turner's administration has never made sense. From hiring a communications director who exploited a public facility to work on her reality TV show to is feud with the fire department, Turner's entire Mayoral career has been nothing short of a confusing embarrassment for Houstonians.
Buzbee said, "Common sense isn't really that common. It's time for new leadership in Houston. We will be aggressively committed to fixing potholes correctly, the first time."
Well put.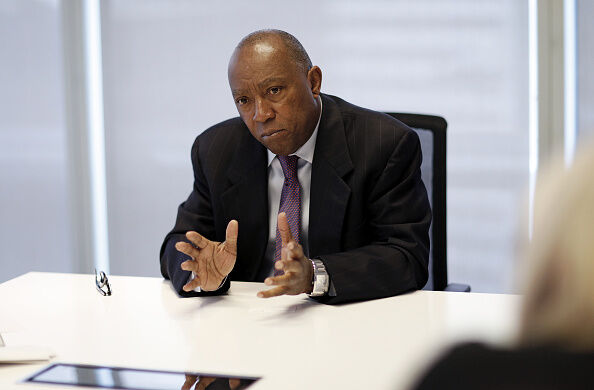 Photo of local embarrassment by Getty Images

The Pursuit of Happiness
Ken Webster Jr is a talk radio personality and producer from Houston, TX. He started his career in Chicago on the Mancow show and has since worked at dozens of radio stations all over the country. He's currently the host of Pursuit of Happiness...
Read more