Intersectionality: Where "Victim" is the New "Hero"
Intersectionality is the Left's new watchword--it's defined as the intersection of two or more victimhood identities (at least that's my definition). Properly, it's defined as the interconnected nature of social categorizations such as race, class, and gender as they apply to a given individual or group, regarded as creating overlapping and interdependent systems of discrimination or disadvantage.
Gay male will trump straight female every time.
So, it's fun to watch when intersectionality causes the left to eat itself.
Recently, we've all been subjected to Minnesota Rep. Ilhan Omar stumble all over herself with the anti-Semitism (in intersectionality-speak Rep Omar is a straight black Muslim woman (3 plus, one minus)). The Democrat leadership in the House is so concerned about her remarks, that it has thrown together an "anti-Semitism" resolution, and will vote on it next week.
According to a draft copy of the text provided to CBS News by a Congressional aide, the resolution "acknowledges the dangerous consequences of perpetuating anti-Semitic stereotypes" and "rejects anti-Semitism as hateful expressions of intolerance that are contradictory to the values that define the people of the United States," but it does not mention Omar by name. Because to call out Omar would be anti-black, anti-woman, and anti-Muslim.
Now, our favorite Palestinian feminist, Linda Sarsour, has decided that House Speaker Nancy Pelosi is "not her Speaker!". In response to the resolutions. Sarsour called Pelosi a "typical white feminist upholding the patriarchy doing the dirty work of powerful white men."
Sarsour accused Democratic leaders of responding more quickly to anti-Semitism than to anti-Muslim rhetoric, and claimed the resolution would only help Republicans.
"Democrats are playing in to the hands of the right. Dividing our base and reinforcing their narrative and giving them an easier path towards 2020," Sarsour wrote in a FaceBook post.
"I reject this. I will speak out. I won't be silent. I am not following this. They don't speak for me as a Democrat. No more double standards."
Linda Sarsour--a Palestinian, Muslim, feminist just called out Nancy Pelosi, a white woman. See how the math works? Palestinian Muslim Woman beats white woman. Every damn time. 
This works in other areas not just politics.  
For example, Martina Navratilova, probably the greatest female tennis player of all time (although you can make a good case for Serena Williams), was recently kicked off the board of Athlete Ally, an LGBTQ association to promote LGBTQ athletes because she wrote an op-ed saying that allowing trans women to compete against cis women was inherently unfair. Unfortunately, Ms. Navratilova tried to bolster her case with actual science. And we certainly can't have that!
Navratilova has certainly done her part to promote positive images of gay athletes. But, since she went against the new LGBTQ orthodoxy, she ran straight into a case of intersectionality hierarchy.
A gay woman will lose to a trans woman. Which kind of makes the whole feminist movement kind of moot, no?
Navratilova's silencing isn't doing anything to help the cause of feminism at all. Athletes are becoming afraid of speaking out against the un-level playing field.
And what's wildly contradictory, is that Rep Ilhan Omar wanted the Attorney General of Minnesota, one Keith Ellison, to investigate USA Powerlifting because that body will not allow a trans woman to compete against actual women. She called it a "myth" that trans women have any inherent advantages over cis women.
Ok, if that's true, then why hasn't a trans man beaten a cis man at any sport?
And if this isn't enough spin for one day, how can Rep Omar validate her support of trans-ism with her Muslim faith? In Birmingham, UK, over 600 Muslim children have been withdrawn from one school over the government-funded school pushing an LGBTQ agenda.
Kids have been withdrawn over the school's "undermining of parental rights and aggressively promoting homosexuality", according to Alum Rock Community Forum.
The forum adds: "Dialogue, petitioning and protests by parents have been repeated and arrogantly ignored.
"Our children, Our Choice - Work with parents not against them."
The school has sent out a letter to parents appealing with them to stop the weekly protests for fears it is disrupting and upsetting the children, teachers and families.
Did I mention that Parkfield School is a primary school? The No Outsiders program is being taught to kids aged 5-10.  
So, in the UK, we have a case of gay white male (the assistant headmaster at Parkfield School) in a clash against non-white Muslims.  
I'm not sure who has the better intersectionality math here--the gay headmaster or the Muslims.
Keep your popcorn handy; the clash of intersectionality is a thing now, and it's fun to watch.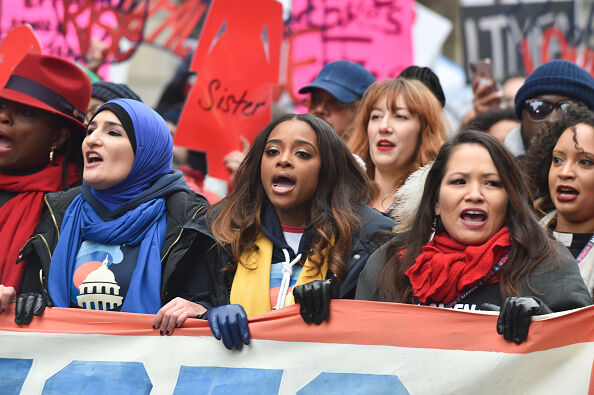 WASHINGTON, DC - JANUARY 19: March Organizers Tamika D. Mallory and Linda Sarsour lead demonstrators during the Women's March on January 19, 2019 in Washington, DC. Thousands of women gathered in the US capital and across the country to support women's rights and to oppose President Donald Trump's policies. (Photo by Aaron J. Thornton/Getty Images)

The Pursuit of Happiness
Ken Webster Jr is a talk radio personality and producer from Houston, TX. He started his career in Chicago on the Mancow show and has since worked at dozens of radio stations all over the country. He's currently the host of Pursuit of Happiness...
Read more