Robert Kraft Apologizes For Being a Man
Robert Kraft, a wealthy man accused of the non-violent crime of consensually paying a woman to take care of him, has issued an apology for being a human with physical needs.
Saying he was "truly sorry" after being caught in a prostitution probe of a Florida massage parlor, New England Patriots owner Robert Kraft issued an extensive public apology on Saturday in which he told backers he hoped to "regain your confidence and respect."
"I am truly sorry. I know I have hurt and disappointed my family, my close friends, my co-workers, our fans and many others who rightfully hold me to a higher standard," the 77-year-old billionaire said in a statement.
"Throughout my life, I have always tried to do the right thing. The last thing I would ever want to do is disrespect another human being."
Kraft referenced the death of his wife Myra, who died of cancer at age 68 in 2011, which left him devastated.
"I have extraordinary respect for women; my morals and my soul were shaped by the most wonderful woman, the love of my life, who I was blessed to have as my partner for 50 years."
Fun fact: Reason.com conducted an investigation shortly after Kraft's arrest that proved none of the women from the massage parlor that he was accused of frequenting were victims of human trafficking or forced labor. This whole news story is a big giant nothing-burger.
The media only cares about this news story because Kraft is a wealthy Trump supporter.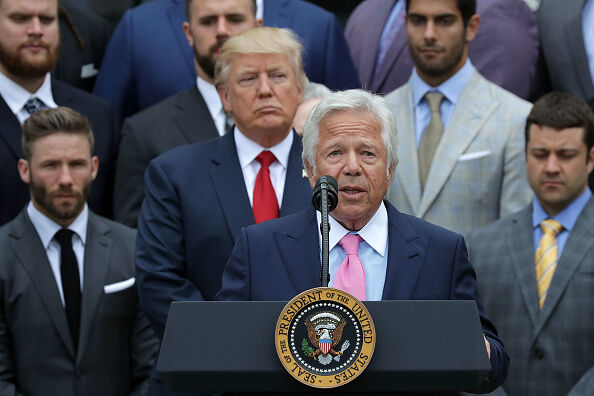 WASHINGTON, DC - APRIL 19: New England Patriots owner Robert Kraft delivers remarks during an event celebrating the team's Super Bowl win hosted by U.S. President Donald Trump on the South Lawn at the White House April 19, 2017 in Washington, DC. It was the team's fifth Super Bowl victory since 1960. (Photo by Chip Somodevilla/Getty Images)

The Pursuit of Happiness
Ken Webster Jr is a talk radio personality and producer from Houston, TX. He started his career in Chicago on the Mancow show and has since worked at dozens of radio stations all over the country. He's currently the host of Pursuit of Happiness...
Read more