NANNY STATE: Texas House Passes Bill to Raise Tobacco Age to 21
You can die for your country, but can you smoke a cigarette while you're bleeding out on the floor?
A new bill in Texas just passed the house - Senate bill 21 says you must be 21 years of age to consume tobacco.
As absurd as this law may be, it at least has one saving grace: State Rep. Matt Schaefer (R-Tyler) added an amendment to the bill that makes an exception for all active duty military members with a valid ID. If you're in the Army, Navy, Marines or Coast Guard, you can still smoke.
Even still, is this a sign of things to come? As lawmakers around the country work to legalize marijuana, they're simultaneously trying to ban tobacco. What the hell sense does that make?!
Rep. John Zerwas (R-Richmond) sponsored the legislation He says the measure will protect young adults from addiction to tobacco products.
Translation: he's promoting a law to protect young adults from themselves.
The new effort by Texas to restrict access to tobacco products is part of a national trend. Senate Majority Leader Mitch McConnell has supported a Federal push to raise the smoking age all over the country.
Thank you, nanny state, for thinking for us!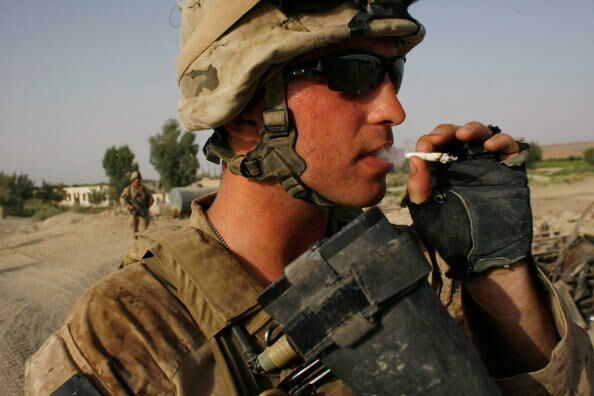 MIAN POSHTEH, AFGHANISTAN- JULY 10: Lance Corporal Jared Paynter with the 2nd Marine Expeditionary Brigade, RCT 2nd Battalion 8th Marines Echo Co. smokes a cigarette as he walks on a patrol on July 10, 2009 in Mian Poshteh, Afghanistan . The Marines are part of Operation Khanjari which was launched to take areas in the Southern Helmand Province that Taliban fighters are using as a resupply route and to help the local Afghan population prepare for the upcoming presidential elections. (Photo by Joe Raedle/Getty Images)

The Pursuit of Happiness
Ken Webster Jr is a talk radio personality and producer from Houston, TX. He started his career in Chicago on the Mancow show and has since worked at dozens of radio stations all over the country. He's currently the host of Pursuit of Happiness...
Read more