Epstein's New Allegations of Raping 15-yr-old - Report
This purportedly happened the day before he tried to commit suicide in prison.
According to a new report, registered sex offender Jeffrey Epstein had apparently been provided with court documents alleging he raped a 15-year-old girl a day before he was found injured in his prison cell with minor marks around his neck.
Epstein had been served legal documents, which outlined the claims of Jennifer Araoz, who says the millionaire financier raped and assaulted her in his New York City mansion while she was a high school student in 2001. NBC reported Araoz's story on July 10, in which she claimed a young woman approached her outside of her high school and began speaking about a wealthy man she knew. This woman accompanied Araoz to Epstein's mansion a few times, where they spoke with Epstein about the young girl's desire to become a Broadway actress and the death of her father.
When Araoz visited the mansion alone, Epstein gave her a tour, including his "favorite room in the house" that consisted of a massage table on the floor and a "painting of a nude young woman" on the wall, according to NBC. Epstein, according to Araoz, paid her $300 to give him massages while wearing just her underwear "that ended with him pleasuring himself to completion," NBC reported. She did this for over a year before Epstein began asking her to remove all her clothes and touching her.
"He raped me, forcefully raped me," Araoz told the network. "He knew exactly what he was doing."
She added that she "was terrified" and kept "telling him to stop."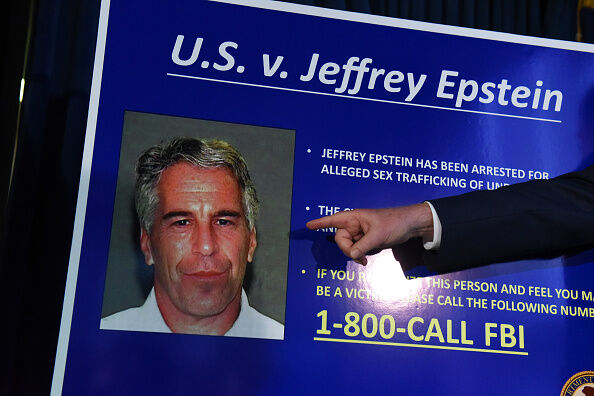 NEW YORK, NY - JULY 08: US Attorney for the Southern District of New York Geoffrey Berman announces charges against Jeffery Epstein on July 8, 2019 in New York City. Epstein will be charged with one count of sex trafficking of minors and one count of conspiracy to engage in sex trafficking of minors. (Photo by Stephanie Keith/Getty Images)

The Pursuit of Happiness
Ken Webster Jr is a talk radio personality and producer from Houston, TX. He started his career in Chicago on the Mancow show and has since worked at dozens of radio stations all over the country. He's currently the host of Pursuit of Happiness...
Read more