Billionaire Dem Candidate: Americans Should Fund Housing for Illegals
Billionaire Tom Steyer, a climate change alarmist who made a fortune off fossil fuels in Central Asia (the irony is almost too much to handle), says we need tax payer funded housing for illegal immigrants.
Tom Steyer is currently running for President and he'll be appearing at the Democrat primary debate tonight.
In Tom's immigration proposal, he states, "A Steyer Administration will … ensure that all undocumented communities have access to affordable and safe housing."
Tom also feels we need to fund healthcare and workplace training for illegals:
A Steyer administration … [will] provide a safe platform for immigrants to share their culture and celebrate their heritage, foster opportunities for public service that support new Americans, and coordinate with Federal agencies and the private sector in order to build workforce training and fellowship opportunities for immigrants with professional qualifications from their home nation to help them leverage their specialized skills in the American marketplace.
While Tom is talking about tax payer funded housing for illegals, millions of Americans are forced to rent of buy cheaper homes because of an inflated real estate market in big cities.
In 2016 Tom donated more money to political candidates than any other single individual in the United States. Every candidate he donated to was a Democrat with far-left opinions.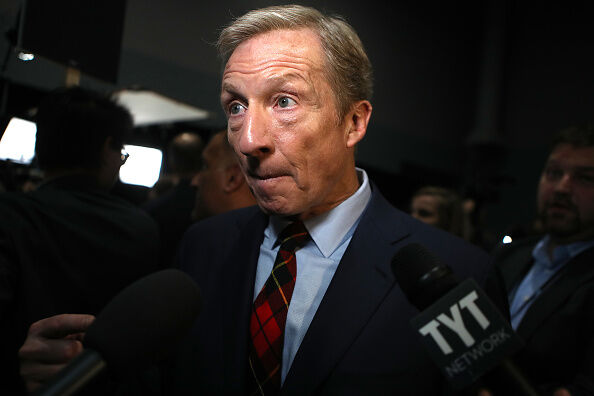 LOS ANGELES, CALIFORNIA - DECEMBER 19: Democratic presidential candidate Tom Steyer speaks to the media in the spin room after the Democratic presidential primary debate at Loyola Marymount University on December 19, 2019 in Los Angeles, California. Seven candidates out of the crowded field qualified for the 6th and last Democratic presidential primary debate of 2019 hosted by PBS NewsHour and Politico. (Photo by Mario Tama/Getty Images)

The Pursuit of Happiness
Ken Webster Jr is a talk radio personality and producer from Houston, TX. He started his career in Chicago on the Mancow show and has since worked at dozens of radio stations all over the country. He's currently the host of Pursuit of Happiness...
Read more