Four High Paid LSU Employees Could Be Fired For Violating Law
Administrators at LSU are reluctantly admitting that four high-paid university staff members are refusing to follow a state law tied to their jobs and way need to be terminated. 
LSU President's is F. King Alexander. If he follows state law he'll be forced to fire all four employees who continue to violate the hard arm of the law.
According to Louisiana law, any state employee who earns more than $100,000 annually must obtain a Louisiana driver's license and register any vehicles in their name in Louisiana. But four LSU employees have refused to comply. 
The law was passed in 2013 after being drafted by then-State Rep John Bel Edwards.
LSU Media Relations Director Ernie Ballard said, "They have not complied, and the university is formulating an action plan related to those individuals."
LSU has known of the situation since at least February 6, 2019 when an internal audit was released in response to a confidential tip that the four employees were not compliant. Despite all four employees having worked at LSU for more than a full year now, they still do not consider themselves to be Louisiana residents and none has obtained a Louisiana license or registered their vehicle with the state, the audit says.
The employees each claim that complying with Louisiana law would put them in a legal bind with the State of Illinois, where they are still legal residents and where their primary homes are still located.
The highest-paid of the four, LSU Chief Technology Officer Andrea Ballinger, makes $268,000 a year working at LSU, the audit says. Ballinger was given a $20,000 relocation stipend to assist with her move to Baton Rouge. Ballinger was hired from Illinois State University in 2017, where she was making $193,424 per year. Ballinger was recruited to Baton Rouge by her former colleague, LSU Vice President of Finance Dan Layzell.
Layzell is the former Vice President for Finance and Planning for Illinois State University, who came to LSU in 2014.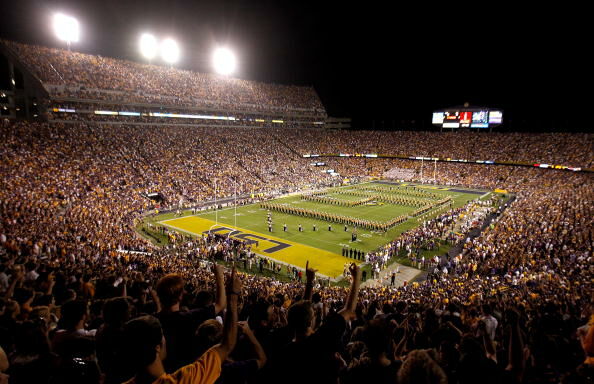 BATON ROUGE, LA - SEPTEMBER 25: An overall view of Death Valley at Tiger Stadium before Louisiana State University played West Virginia on September 25, 2010 in Baton Rouge, Louisiana. LSU won 20-14. (Photo by Sean Gardner/Getty Images)

Walton And Johnson
Want to know more about Walton And Johnson? Get their official bio, social pages & articles on KPRC AM 950!
Read more