"I Had to Crawl" - United Airlines Took an Amputee's Scooter Batteries
We've heard numerous examples of people being mistreated by airlines over the past few years, but this one might just take the cake.
United Airlines took the battery off an amputee's mobility scooter and forced him to crawl through the airport to get to his destination.
They didn't give him a wheelchair or a backup scooter. They didn't even offer him a little assistance. 
Stearn Hodge says he will never forget the humiliation of having to drag his body across a hotel room floor during what was supposed to be a vacation celebrating his 43rd wedding anniversary — because a security agent at the Calgary International Airport and United Airlines confiscated the batteries he needed to operate a portable scooter.
"Having to crawl across the floor in front of my wife is the most humiliating thing that I can think of," said Hodge. "It unmasks how real my disability is … I haven't been the same since."
The 68-year-old retired contractor from Kelowna, B.C., lost his left arm and right leg in a 1984 workplace accident. He now relies on a portable scooter powered by lithium batteries.
But on a trip to Tulsa, Okla., on Feb. 26, 2017, an agent with the Canadian Air Transport Security Authority (CATSA) and a United Airlines official told Hodge to remove the $2,000 battery from his scooter and fly without it, as well as his spare battery.
In making the demand, both employees cited safety concerns.
Lithium-ion batteries are a potential fire hazard, but global standards issued by the International Air Transport Association (IATA) allow people with disabilities to travel with compact lithium batteries for medical devices in carry-on luggage.
Hodge said no one from CATSA or United Airlines would listen to him or read IATA documents he had printed out, showing his batteries are permitted on board if an airline gives prior approval. Hodge had received that permission.
"They're taking my legs — and not only that, my dignity," said Hodge.
When the CATSA agent seized his batteries in Calgary, the employee suggested it wasn't a big deal, Hodge said.
"I still remember the CATSA agent saying, 'Well, you could get a wheelchair.' How's a one-armed guy going to run a wheelchair?" asked Hodge. "How am I going to go down a ramp and brake with one hand? But that shouldn't even have to come up."
Hodge's wife had recently undergone cancer treatment, which affected her spine, and she couldn't push a wheelchair for her husband.
Hodge said he asked for an agent from United Airlines to come to the security checkpoint, as he had called the airline earlier and was assured it was OK to bring his battery and a spare on board.
United Airlines should consider a new slogan: "we make disabled people crawl through our terminals like animals in an effort to reaffirm our superiority complex." - It's not catchy, but its' very accurate.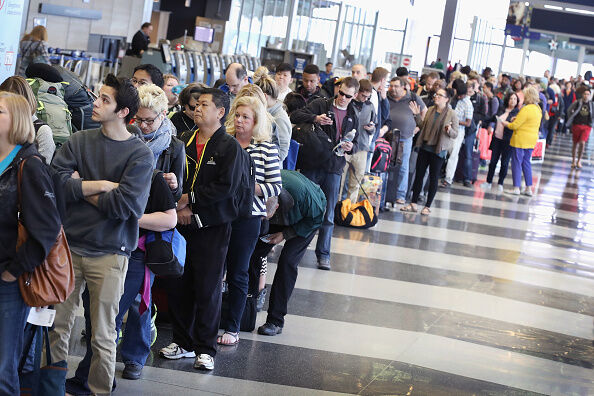 CHICAGO, IL - MAY 16: Passengers at O'Hare International Airport wait in line to be screened at a Transportation Security Administration (TSA) checkpoint on May 16, 2016 in Chicago, Illinois. Waiting times at the checkpoints today have been reported to be as long 2 hours. The long lines have been blamed for flight delays and a large number of passengers missing flights completely. (Photo by Scott Olson/Getty Images)

Walton And Johnson
Want to know more about Walton And Johnson? Get their official bio, social pages & articles on KPRC AM 950!
Read more