Sportsnet Fires Longtime Hockey Analyst for Defending Military Veterans
If you support military veterans and patriotism, don't plan on having a job at Sportsnet. They will fire you.
Sportsnet has fired longtime hockey analyst and former Boston Bruins coach Don Cherry for comments he made about immigrants not supporting military vets.
Cherry, 85, criticized immigrants in the Toronto and Mississauga region of Ontario who he claimed were not wearing poppies in honor of veterans on Remembrance Day.
"You people ... you love our way of life, you love our milk and honey, at least you can pay a couple bucks for a poppy or something like that," he said on the segment. "These guys paid for your way of life that you enjoy in Canada, these guys paid the biggest price."
Critics are accusing Cherry of being xenophobic and anti-immigration, but all he's doing is asking people who move to his community to support the military veterans who fought for his freedom.
But don't worry, he's not backing down on his beliefs. He spoke with Tucker Carlson last night on Fox News to defend his stance.
Cherry left viewers shocked during Saturday's "Coach's Corner" segment in which he criticized people who were not wearing poppy pins to mark Canada's Remembrance Day.
Cherry told Carlson he has the support of the silent majority, including law enforcement, and said his mistake was using the term "you people" rather than a more innocuous, inclusive term such as "everybody."
"It's the two words that got it, as you know, people are sensitive like that," Cherry told Carlson. "These soldiers died so we can have our way of life. At least wear a poppy in their honor."
In his first public comments since Canadian TV network Sportsnet announced its decision, Cherry said he had "no problem" with being fired and refused to apologize.
"I know what I said and I meant it," Cherry told the Toronto Sun. "Everybody in Canada should wear a poppy to honor our fallen soldiers."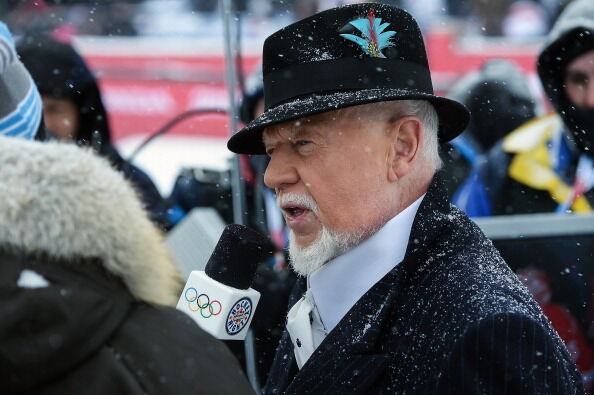 ANN ARBOR, MI - JANUARY 1: Canadien hockey broadcaster Don Cherry does an interview next to the outdoor rink during the 2014 Bridgestone NHL Winter Classic between the Toronto Maple Leafs and the Detroit Red Wings on January 1, 2014 at Michigan Stadium in Ann Arbor, Michigan. (Photo by Jamie Sabau/Getty Images)

Walton And Johnson
Want to know more about Walton And Johnson? Get their official bio, social pages & articles on KPRC AM 950!
Read more